The fight to keep sake culture alive is stronger than ever, starting with embracing the celebration of Sake Day.
Every 1st October, the sake-loving world celebrates World Sake Day (Nihonshu no Hi). First celebrated in 1978, the occasion was declared by the Japan Sake and Sochu Makers Association (JSS) for a number of reasons.
Firstly, this date marks the start of a new sake brewing season lasting all the way till April the following year. October also marks the start of autumn, a time when spring's young brews mellow and start to become more complex. Coincidentally, the Japanese character for sake, 酒, contains 酉, the chicken, which happens to be the 10th animal sign in the zodiac thus corresponding October's numerical order.
A tribute to a well-loved drink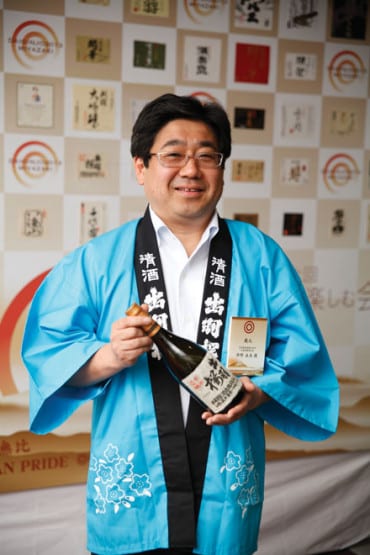 OISHII has organised and supported KANPAI! events in Singapore for the last four years.
Prior to the 5th edition of KANPAI!'s event, we interviewed Mr. Masumi Nakano, Committee Chairmam, Overseas Sake Promotion Committee at JSS and the owner of Dewazakura Sake Brewery. He tells us more about the popular drink and how it can bring people together.
Dewazakura Sake Brewery
Last year, Yamagata Prefecture, where Mr. Nakano's brewery is located, was granted the bona fide Geographical
Indication (GI), making them the first prefecture in the world to achieve this. The region and its producers now have the exclusive right to label their sake 'Made-in-Yamagata Prefecture'.
The taste and flavour of sake varies according to where and how it's produced. For example, sake that undergoes more rice polishing becomes more fragrant. And that's not all—drinking sake in different temperatures also brings out its flavours.
Mr. Nakano's brewery contains a range of sake choices catering to various consumer palates: there are bubbly, sweet, dry and even mature sake.
Naturally, he is a true fan of the beverage. For starters, Mr. Nakano hopes to make ginjo sake internationally recognised. Made from high levels of polished rice, the sake carries a beautiful aroma. He also admits another measure of success would be an increase of breweries around the world.
Rooted in Japanese culture
Mr. Nakano posits that young people don't like being drunk these days, hence the decline in sake consumption since its peak 40 years ago. Instead, they regularly neutralise hard liquor, such as gin and whisky with soda.
In order to get consumers to fall in love with sake again, both locally and overseas, Mr Nakano believes the key is understanding sake's roots in Japanese culture.
"Since sake is the national beverage of Japan, it's important to appreciate Japanese culture. Apart from that, we should educate people about the process of brewing sake, and which foods to pair them with," he says. "We also hope to spread Yamagata Prefecture's culture and its noteworthiness of brewing good sake, by inroducing the drink to overseas markets."
Connecting people with sake
For this year's Kanpai event in Singapore, Mr. Nakano is optimistic about the attendance. Last year, about 77,000 people from 9 countries showed up.
According to him, the most important rule when drinking sake is to have fun and be adventurous in tasting different types of sake one isn't used to, even if they are used to one label.
Mr. Nakano shares, "In Japanese, there's a phrase that means once you start drinking together, you become friends. Through sake, people will always have a good time. Hopefully, the Kanpai movement will bring the world together. KANPAI!"
  (Text Grace Yeoh)