Whether you're a history buff, a nature lover or you simply enjoy trying new experiences, there's something for everyone in Kagoshima.
Sengan-en Gardens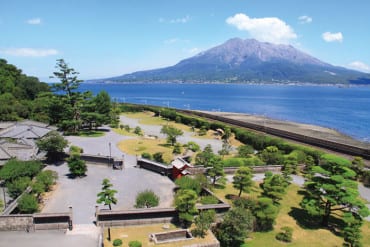 Built in 1658 as the villa for the Shimadzu family, this expansive complex offers stunning views of Mt. Sakurajima and Kagoshima Bay. Take a walk through the exquisite Japanese gardens and try to picture what it was like strolling through the grounds back in the 17th century.
Look out for key sights such as the 150-pound iron cannon, which was one of the most powerful cannons at the end of the Edo Period (1603 – 1868), as well as the specially designated Cat Shrine, built by Yoshihiro Shimadzu, the son of the 15th lord of the clan. You can also take a closer peek into the lives of the Shimadzu family by taking a guided tour of their residence. Each tour includes a cup of fine matcha tea and traditional Japanese confectionery.
Located next to Sengan-en Garden, Shoko Shuseikan, the first Western industrial factory complex built in Japan, was inscribed as a UNESCO World Cultural Heritage in July 2015.
Museum of the Meiji Restoration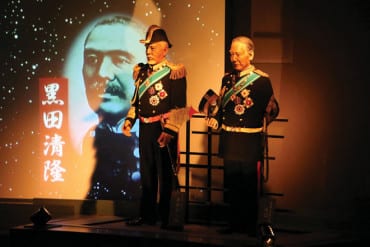 For a comprehensive telling of the Meiji Restoration story, visit this museum. Located on the banks of the Kotsuki River, the Museum of the Meiji Restoration is where you can learn the history of this crucial period through animatronics and detailed exhibits that showcase the people, objects, and events of the Domain of Satsuma.
Sakurajima Ferry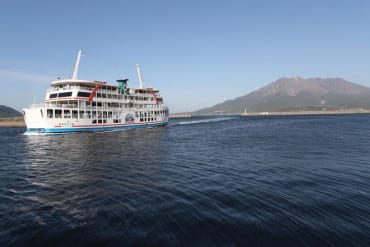 Much like the Star Ferry in Hong Kong transporting passengers between Kowloon and Hong Kong Island, this ferry runs 24 hours a day, shuttling people between Kagoshima city, located on Satsuma peninsula in the west, and Mt. Sakurajima, which is connected to the Osumi peninsula in the east. The journey takes 15 minutes, so be sure to get your fix of Kagoshima's comfort food, Yabukin's famous udon, available only onboard the ferry.
Tamatebako Onsen Hot Spring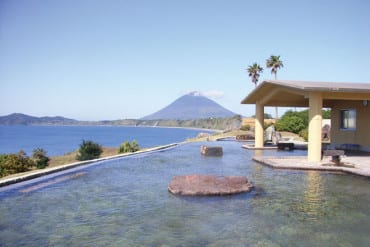 As you lower your careworn body into the inviting hot spring waters and with the panoramic views of the East China Sea spread out in front of you, you can almost literally feel all your aches and worries dissipating. After all, some of the health benefits of the onsen include improved blood circulation and a relief of muscle tension or joint pain. 
Yamagawa Sand Steamed Bath Sayuri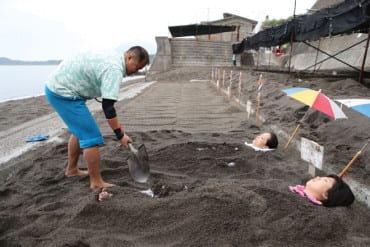 Remember when you were a kid and your siblings buried your body in sand? Well, in Kagoshima, that has been elevated to become a form of spa therapy. As you lie on the beach, an attendant covers your body with sand warmed by stream from underlying hot springs. Regular sand bath therapy is said to help with lowering stress levels and increasing one's immunity, so enjoy! 
Meijigura Shochu Distillery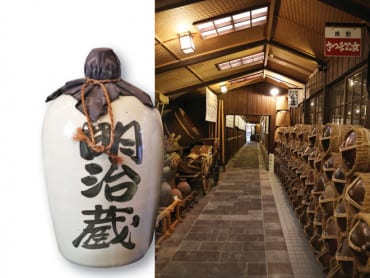 On mainland Kagoshima, the main ingredient most commonly used for distilling shochu is sweet potato – which is ubiquitous in the region. There are over 2,000 brands of shochu produced by 113 distilleries, each with its own unique fragrance and flavours. Take a tour of Meijigura Shochu Distillery to find out more about their time-honoured techniques, as well as the secret behind some of their award-winning shochu.
Mars Tsunuki Distillery & "Hojo", the old house of Hombo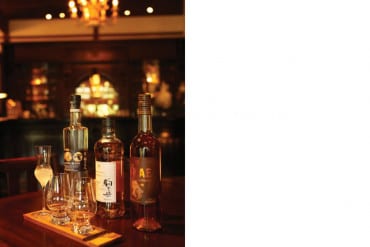 The Hombo family began their shochu business in 1909 at Tsunuki. Today, the business has expanded with production sites in some parts of Kagoshima, Yamanashi, and Nagano, with new product categories too: liquer, wine, and whisky. Tour the distillery and stop by the family's old house, called "Hojo"—a beautifully restored 1930s Japanese-style home. There, you can partake in Mars Tsunuki's finest tipples at its outdoor terrace!  
Nishi-Oyama Station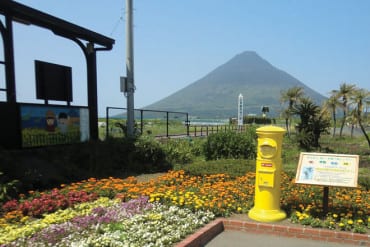 If you like bragging rights that you've been to the southernmost train station on the Japan Railways rail network, this is it.
On clear days, you can also get unobstructed views of the omnipresent Mt. Kaimon.