Flying into Tokushima affords a bird's eye view over the distinctive geography of this easternmost prefecture of Shikoku island, where idyllic pastoral scenes of rivers, bridges and fields carpeted with flowers never seem far from the easily navigable capital, satellite towns and picture-postcard villages. Indeed, almost a tenth of Tokushima is taken up by national parks, while a significant slice of the immaculate countryside is given over to agriculture, and the growth of produce that makes up some of the area's most emblematic dishes.
But perhaps its most notable feature is the spectacular terrain of the Sanuki mountain range that rings the prefecture's northern border, and provides a stunning backdrop to journeys around Tokushima. The Naruto Strait is another beautiful viewpoint that sits in between the Seto Inland Sea and the Pacific, and provides both tourism opportunities—with its stunning bridge overlooking renowned whirlpools—and a rich source of seafood.
The prefecture is amply proportioned, rewarding many days of exploration, yet it was once larger. Previously known as Awa-no-kuni till the end of the Edo Era, and then after the Meiji Restoration as Myodo-gun—visitors will note the word "awa" on public signs and product names around the island—the prefecture eventually shed its adjoining territories of Awa region and Awaji island, before finally being named Tokushima in 1880. Nowadays its most famous cultural institution and export is Awa-odori, an exuberant folk dance that lends its name to Japan's biggest dance festival every August.
While industrialisation and infrastructure projects stepped up in the postwar period, the year-round warm, sometimes humid subtropical climate here—the hottest month is August, the wettest September—led to farming becoming its chief industry in this environment that's ideally suited to fertile agriculture. The plains north of the Yoshino river became known for their abundant produce, and diners in cities as far-flung as Kobe, Osaka and Kyoto have been well acquainted over the years with key Tokushima foodstuffs such as sweet potatoes, sudachi, hamo eel, lobster, strawberries, rice and yuzu. Tokushima is even known to produce colourful, edible flowers, including almost all of the nation's indigo dye.
Over the following pages you can find out how all these regional specialities contribute to the character of Tokushima's cuisine, craft and culture. Get ready for a beautiful and delicious journey!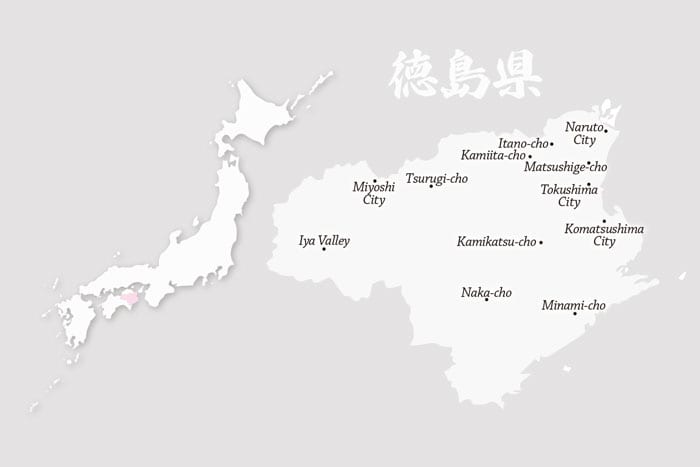 >>Read more about Tokushima Products
>>Read more about Tokushima Foods
>>Read more about Tokushima Sights
>>Read more about Tokushima Souvenir
(TEXT Jonathan Evans  Photography kojiro sugimoto)