You won't be faulted for over-eating in Kagoshima. Not when the food is this good!
Kagomma Furusato Yataimura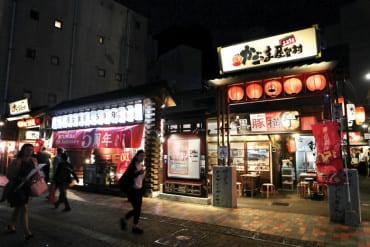 No visit to Kagoshima is complete without paying a visit to Kagomma Furusato Yataimura at least once! This tiny street is jam-packed with about 25 little food shops, all hawking uniquely Kagoshima cuisine.
Some shops to zoom in on include Washio, which serves torisashi (chicken sashimi); best enjoyed with minced ginger and sweet shoyu, and a yakitori platter where you get to savour chicken bathed in sauce and grilled to perfection. For pork dishes, head over to Kurobuta Yokocho, which serves shabu shabu, ramen, and gyoza all prepared with the famous Kurobuta black pork. The pork is locally sourced from a producer that raises his pigs on a diet of sweet potatoes, so their meat is a little sweeter than other types of black pork.
If you're craving sashimi, Kokoro serves an impressive array of the freshest sashimi, including kibinago (silver-stripe round herring), kanpachi (greater amberjack), maguro (tuna), and uni (sea urchin). For a traditional Kagoshima snack, Yagio serves the local specialty, Satsuma-age (fried fish cake), bursting with flavour.
Wash it all down with a cup (or two) of warmed shochu diluted with water (using a 6:4 ratio) and served with Kurojoka. Smooth and comforting, this shochu is the perfect end to an evening of feasting.
Tosenkyo Somen Nagashi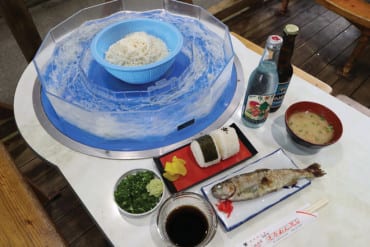 Fancy "catching" your meal for the day? Don't worry, you don't have to hunt your own food! At Tosenkyo Valley, diners sit around a tub of whirling water and "catch" the somen noodles that dance about in the water. Once you've caught the noodles, dip it in the sauce, slurp it up, and enjoy! Fresh cold water from Tosenkyo Valley is used here, which has been selected one of the best 100 natural water in Japan.
Top Grill Sky Lounge at Hotel Shiroyama Kagoshima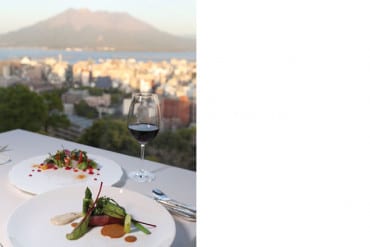 With a stunning view overlooking the city, this is one of the hottest tables in Kagoshima. Helmed by Chef Kazuma Sakamoto, the menu incorporates plenty of local produce such as Kagoshima beef and seafood from Kagoshima Bay. "I have a deep respect for the food producers in Kagoshima. The produce here is superior to those from other prefectures I've worked in," he says. Not only does Chef Sakamoto use local produce, he also includes other local ingredients such as the sweet shoyu and black vinegar in his dishes. 
Bistro Le Dome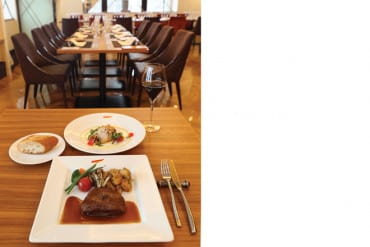 There is a rising trend in Japan of the "neo-bistro" where fancy settings and stuffy decorations are eschewed for clean designs… but the quality of food remains tip-top. Established by Chef Masaru Kamikakimoto, Bistro le Dome's elegant interiors are influenced by this very concept. Most of the ingredients from its stellar cuisine are sourced from within Kagoshima, including the famed Kurobuta pork and Kuroushi wagyu beef.
Chikyu-Batake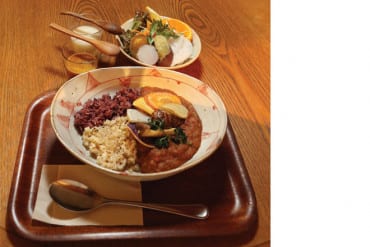 Dining at this cosy restaurant feels like you're dining in someone's home. The food is simple and unpretentious, comprising mainly organic ingredients and lovingly prepared by a small kitchen team. Restaurant manager Kanae Kyuno says they change their menu daily because they have customers who frequent the restaurant at least three to four times a week. Here, you can get a wide variety of seasonal fruits and vegetables as well as ethically raised fish and meat.
Beefar's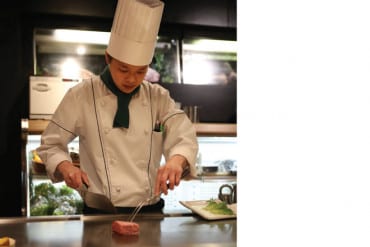 At Beefar's, the meat is sourced directly from beef producers in Kagoshima, and the staff take pains to share with customers each producer's unique ideology and brand story. Some of these brands include the 4% Miracle Beef; which is a premium beef that has an astoundingly rich, melt-in-your-mouth flavour. Also, try their Satsuma Beef, raised by a an award-winning beef producer. It's even higher than an A4 rank, so rest assured, the beef is safe, secure, and delicious! 
Ichifuku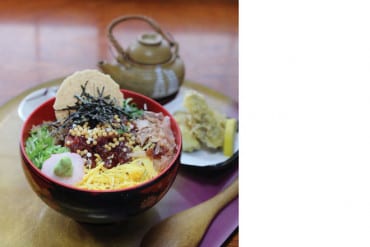 If you want to enjoy the best of bonito, Ichifuku is particularly famed for their bonito dishes. Here, you can enjoy bonito prepared in a variety of styles – Katsuo no arai (where thin, raw slices of fish are placed on a bed of ice), bonito belly fried tempura-style, bonito tataki, and even stewed bonito heart, intestines, and milt. Even the miso soup is mixed with bonito flakes and minced bonito for a richer, more flavourful finish.