A Taste of Komatsu
Interview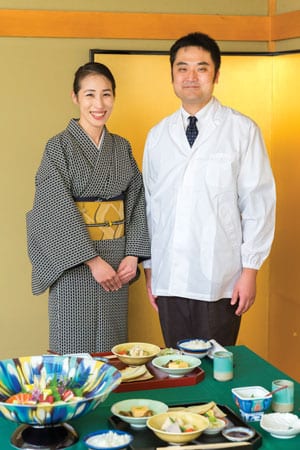 Taro and Aiko Kaji,
Kajisuke
The married couple, who are in their thirties, run the business with Taro's parents. They use local produce, such as white oyster, crab and tomatoes, and serve these on valuable, traditional kutani-yaki ceramics. They have recently started offering halal food for tourists and the city's foreign population.
Tell us more about what's good to order at Kajisuke.
We have a lunch set with sashimi (including tuna and snapper), egg tofu, nameko mushrooms, a soup with puffer fish and mitsuba vegetables, and apple compote for dessert. The set also includes a tofu bowl made with yam, red konjac and winter melon. Every day, the lunch set changes, so do call to enquire and make your reservation a day before. At night, we serve a kaiseki set. What's special is we serve the food on traditional kutani-yaki ceramics because we wish to help promote and preserve this craft from Komatsu City.
You also added a halal menu in 2016.
Yes, we are one of a handful of halal-certified restaurants here. We were sent for a course on halal food preparation. We have pork-free dishes as well as dishes prepared with halal-certified meat. Private dining rooms are available too and so are prayer spaces and disposable dining ware. We also do not prepare the food with shoyu as it has alcohol; we use a non-alcoholic form of shoyu instead.
What do you like most about Komatsu?
Hiyo Moss Garden because it's a peaceful place with the sunlight filtering through the many trees. Also, the four seasons in Komatsu because they are very clearly defined. For food, it would have to be nodoguro (black throat sea perch) and local mushrooms, although they have an acquired taste!
Kajisuke
141, Yamato-machi, Komatsu City, Ishikawa 923-0952
Tel: 0761-22-8314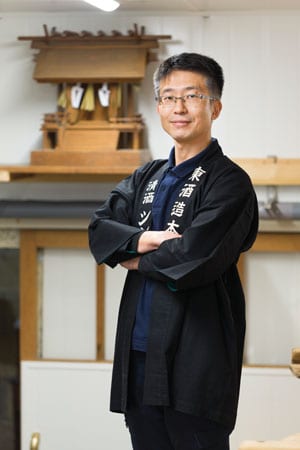 Yusuke Higashi,
Higashi Sake Brewing Company Ltd
The seventh-generation owner works with a team of fewer than 20 people to churn out 30,000 bottles of sake every year. These are exported to countries such as Singapore, Hong Kong, Taiwan and Germany. He tells us what makes his award-winning sakes so popular and special.
Why do you think your customers love your sakes?
If you want to drink Komatsu sake, come to us. We produce about 12 varietals. One of our junmai daiginjo sakes also won a prize in France. Our sakes are brewed using Mount Hakusan mountain spring water and local rice. Most sakes are sweet or dry, but ours are unami because we add an extra step in our sake-making process. Generally, in the brewing process, the rice is fermented then squeezed. For us, we add more rice just before it is squeezed. This gives our sakes a special sweetness. I also like to make the sakes taste smoother, so that they can go with most kinds of food. You can visit us to see how sake is produced and to sample a few of them. It's a form of sake tourism that we are interested in.
Is sake making a very precise art?
Yes, we have a 150-year-old stone warehouse that helps to regulate the temperature during summer and winter. We have to check on the temperatures of the sakes and record them at different intervals on a scoreboard. Over-fermentation can lower the quality of the sakes. We also have a shrine for the god of sake to bless our goods!
What is a new sake trend?
Sake has been around for more than 2,000 years but its flavours have always been evolving. For instance, nobody would have thought that sake could be sweet a few years ago. Now, I find that customers like more dry sakes or those with a more unique taste.
What would you recommend about Komatsu?
Natadera Temple, because it is a very cultural place for tourists to experience.
Higashi Sake Brewing Company
35 Noada-machi, Komatsu City, Ishikawa 923-0033
Tel: 0761-22-2302