"Spago has always been about embracing different influences. Just as Singapore is a great cultural mash-up, so is Los Angeles, which is home to the original restaurant. We're surrounded by many different cultures, flavours and cooking styles.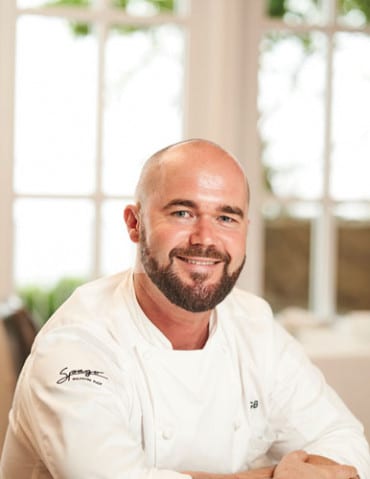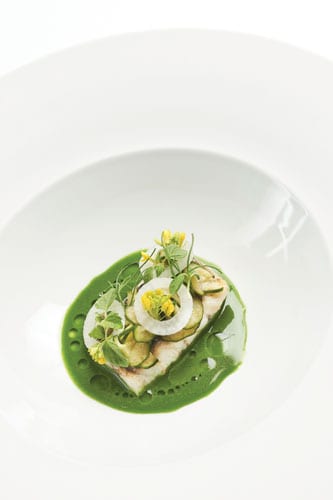 The binchotan-grilled mackerel with pickled cucumber is inspired by Japanese flavours and ingredients. I wanted a dish that was a little heavier on the palate for fall, which was why I chose the oilier mackerel. However, I also wanted to have some balance in the menu and provide options that won't make you feel like you've overindulged.
The dish took about four months to perfect. I started with the idea for the sauce, but I didn't know what to pair it with. Then we got this amazing fresh spotted mackerel from Japan. It's grilled on binchotan charcoal to impart a rich, smoky flavour, which went perfectly with the sauce. But it needed something else, and we found that pickled cucumbers were the perfect foil for the deep umami of the sauce and the fish.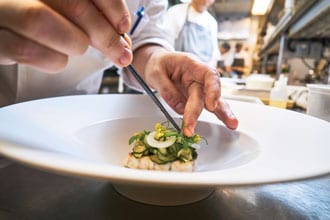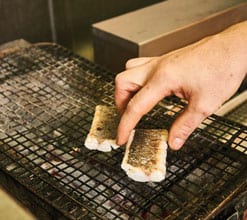 The sauce is dashi-based, fortified with caramelised fish bones and leeks. It has a slight smokiness from bonito flakes, and the parsley and seaweed puree gives it a vibrant green colour. The pickled Japanese cucumbers have been marinated with ginger, vinegar and soy sauce. Then I add daikon, mint and baby shiso leaves, mustard flowers and seagrass. I finish it off with drops of miso and orange oil. Even though the colours make it look like a dish meant for spring, the richness of the dashi and smoked fish makes it very savoury and autumnal."
(TEXT Siti Rohani Photography Raymond Toh/Vineyard Production)
Chef GREG BESS
Chef Greg Bess is the 38-year-old Chef de Cuisine of Spago Dining Room by Wolfgang Puck. He trained at the Le Cordon Bleu culinary school in Pasadena, California, before joining the original Spago in Los Angeles in 2004 at the age of 23. After three years, he was promoted to Sous Chef. Six years later, he moved to Singapore to help set up the steakhouse, CUT by Wolfgang Puck, as the Executive Sous Chef. He crossed over to Spago Singapore when it opened in 2015. Bess loves Southeast Asian cuisine and is fascinated by local flavours—when he first came to Singapore, he fell in love with kaya, or coconut egg jam, and laksa, which led to the creation of Spago Singapore's laksa spring roll.
Spago Dining Room by Wolfgang Puck
Sands SkyPark, Tower 2, Level 57 Marina Bay Sands, 10 Bayfront Avenue.
Tel: 6688 9955