Apr 29, 2020
Halfway between Osaka and Tokyo, this city in Shizuoka Prefecture makes a great launchpad for food adventures, fun things to do and much more.
Sunset. We are spearfishing in the middle of Lake Hamana, one of Japan's largest lagoons. Around us, the calm, shallow waters of the lagoon gently lap against our boat as the evening light shimmers. Before us sits the towering red torii gate; just behind, the shinkansen rumbles across where the lake meets the ocean.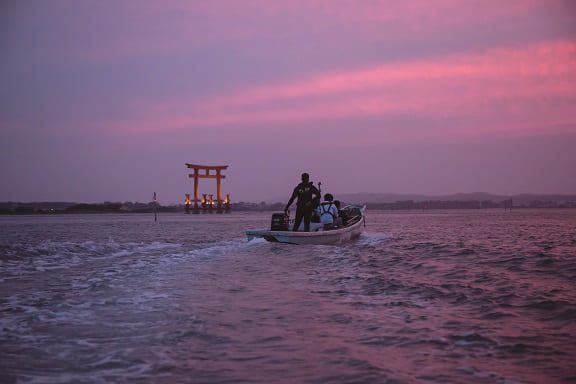 It is an absolutely beautiful evening on the lake, but just another day in Hamamatsu city in Shizuoka Prefecture, central Honshu. While the lake is the life source of the region, providing plentiful seafood, the city is its heartbeat. Its main attractions are Hamamatsu Castle Park, which was built by the shogun Tokugawa Ieyasu, who lived in Hamamatsu for 17 years (1571 to 1588) and whose rule marked the start of the Edo period.
Home to 800,000 people, Hamamatsu city is a great spot for festivals and food. It is known for a number of foodie adventures from spearfishing at night to catching your own eel for a grilled unagi lunch and harvesting your own Shizuoka muskmelons. Thanks to a mild climate and long periods of sunshine, especially during spring and summer, Hamamatsu has an abundant supply of fresh, nutrient-rich fare, so much so it has its own category of superfoods known as power foods.
Culture buffs aren't left out in the cold either as Hamamatsu is also known as the City of Music. Take your pick between looking at giant calligraphy artwork and toying with musical technology, made by the world's best-known musical instrument maker. Whatever you choose, you're in for a surprising visit in this little city with big energy.
>> 6 Exciting Food Adventures in Hamamatsu
>> 4 Cultural Sites to Visit in Hamamatsu
>> 3 Amazing Restaurants in Hamamatsu
>> Souvenir Shopping in Hamamatsu
All about HAMAMATSU & LAKE HAMANA
Here's what you need to know about this city in Shizuoka.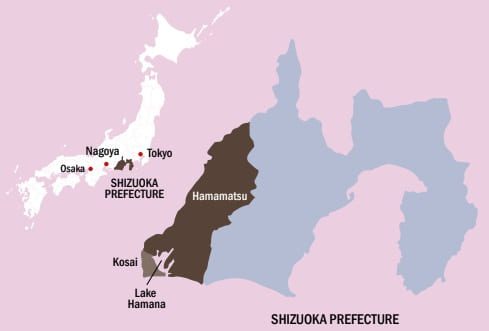 BY TRAIN
Tokaido Shinkansen Line
From Osaka: 83 minutes by Hikari, 116 minutes by Kodama
From Nagoya: 29 minutes by Hikari, 46 minutes by Kodama
From Shizuoka: 27 minutes by Kodama
From Tokyo: 89 minutes by Hikari, 120 minutes by Kodama
BY CAR
Meishin and Tomei Expressway
From Osaka: 282km
From Tokyo: 230km