Meet the Game Changers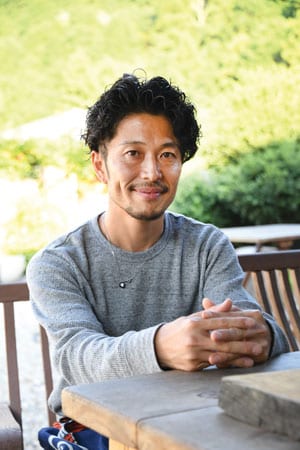 Atsushi Umemura, Miyazakien
This dapper 39-year-old looks nothing like a traditional tea farmer. Not surprising since Umemura, the sixth-generation owner of the Miyazakien tea house that has been around since 1820, wants to modernise the art of tea drinking .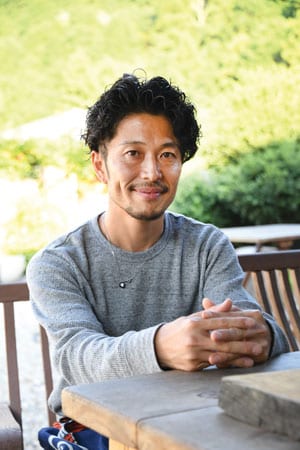 How different is Miyazakien from other tea businesses in Japan?
We are unusual in how we see through the entire process, from processing the tea to selling the leaves wholesale and even serving tea on our premises.
In 2006, we also became the first organic tea farm
in Aichi Prefecture.
How do you attract new customers?
As a wholesaler, we usually supply our products to businesses elsewhere but I want people to come visit us directly instead. So, on the second level of our teahouse, we conduct experiential workshops like flower arrangement lessons.
How else are you modernising your tea business?
As a wholesaler, we can't really change the style of our tea products too much. So, we try and serve tea in different new ways. For example, we sell houjicha flavoured shaved ice. This attracts long queues of customers, and we can sell about 100 bowls in a day. But with the shaved ice, we serve tea too, so customers can taste it and be encouraged to purchase our tea leaves. We also experiment with different ways of drinking tea: serving green tea in teacups with ice chips or in a wine decanter-inspired bottle and in wine glasses.
Miyazakien
8 Aino, Ishihara-cho, Okazaki City, Aichi 444-3601
Tel: 0564-83-2710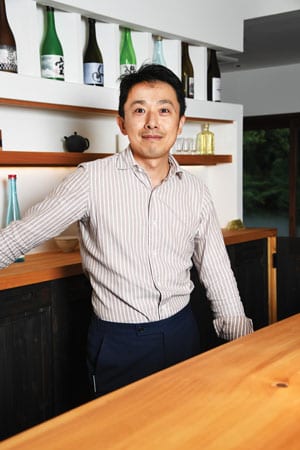 Naoyoshi Kato, Hazu Resort and Hoo! Hoo!
London-educated Kato runs Hazu Bekkan, a traditional ryokan that is part of the hotel business started by his grandfather 70 years ago. But the 44-year-old has injected his own modern aesthetic into the ultra-hip Hoo! Hoo! bar.
Have you always been in the hospitality business?
My family owns about four hotels in this town including Hazu Bekkan, which has onsens and
13 rooms. Our town has a history of onsens. The interesting thing about Hazu Bekkan is our rooms don't have a fixed price. It was my father's idea
35 years ago to let guests decide on how much they want to pay for their rooms.
Tell us more about Hoo! Hoo! and its unusual name.
Owls are common in Aichi Prefecture, so Hoo! Hoo! is named after the sound that they make. Also, the name is a little influenced by our old town name. We did not have a café or a bar in this village, and I was hoping to start something a bit more sophisticated. Hopefully, this will make our town more hip and give foreign visitors a place to hang out at. I man the bar counter myself and we have a guesthouse with five rooms upstairs. Most of the guests at the moment are Japanese though we have hosted Americans and Hong Kongers too.
What do you love most about Aichikogen-Okumikawa?
As a child, I used to swim in Uregawa River (most of the rooms in Hazu Bekkan overlook this river). Now, I love my soul food, which is gohei-mochi (grilled rice cake commonly eaten in the area). Hopefully we can make this place more interesting for visitors by introducing new attractions. I would love to share more about our Japanese festivals and traditions with foreign visitors.
Hazu Bekkan & Hoo Hoo!
11-4 Toyooka aza Takiue, Shinshiro City, Aichi 441-1605
Tel: 0536-32-1211