"What drives me to cook is purely creativity. Not that many things give me that pleasure of having an idea in my head and putting it out there, and it works.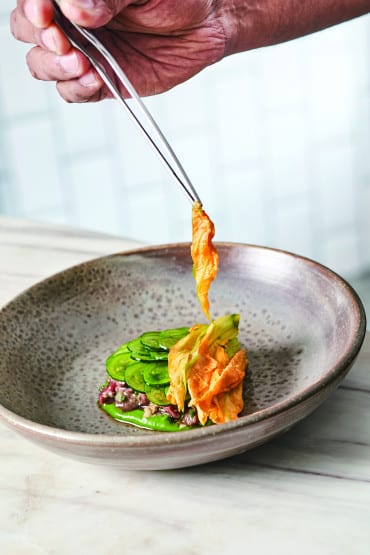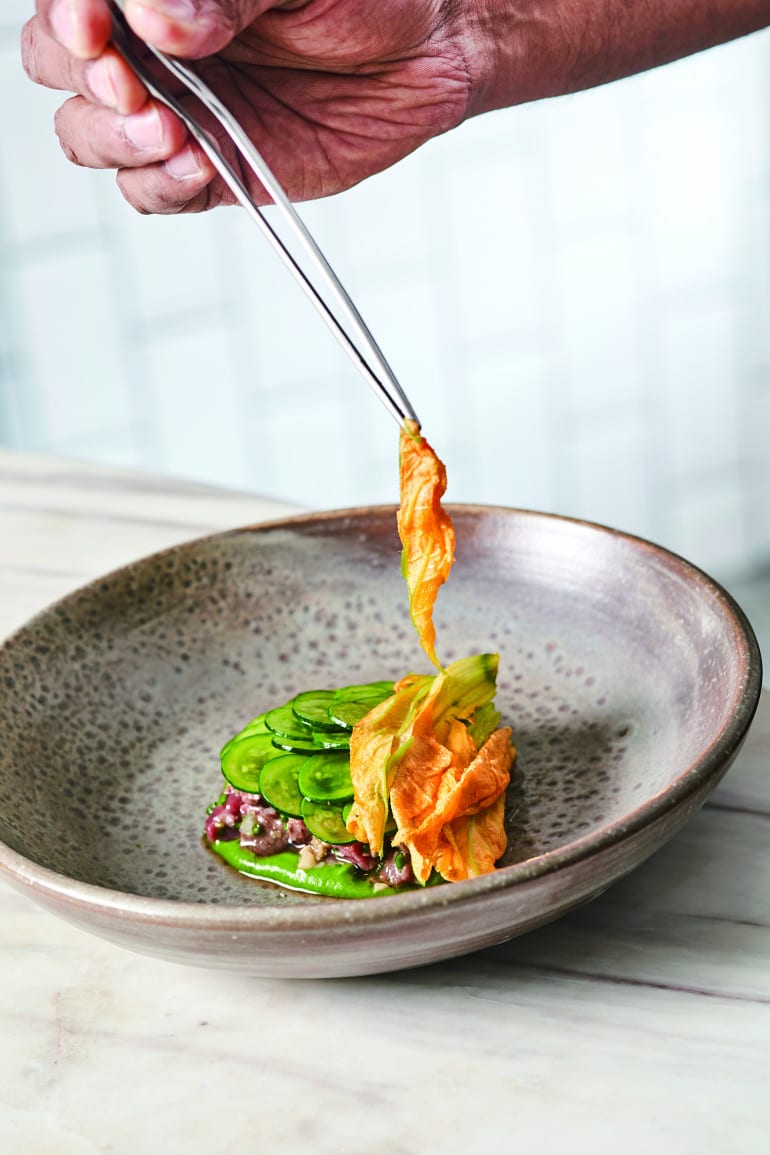 The idea for the dish, Venison with Fermented Plums and Pickled Cashews, came about when my fish supplier had some wild venison from New Zealand and asked me if I wanted some. I said 'yes' because I wanted to taste it. I went to a Japanese supermarket and picked up umeboshi (fermented plums), wasabi, shiso and zucchini. The dish didn't look like this in the beginning, but the ingredients haven't changed.
The venison is lightly seared, aburi style, which gives it a different texture and flavour, and then minced. I added pickled cashews, capers, shallots, chives and chopped shiso to the tartare. The green puree is made up of zucchini and wasabi, and I made a dressing out of the umeboshi with rice wine vinegar, sake, mirin and soy sauce. Then I top it off with zucchini flowers. When you start eating it, you get all the different textures and layers coming through.
My obsession with all things Japanese started when I worked at Taxi Kitchen in Melbourne. I liked the discipline in the way they worked. And I also picked up discipline and patience when I worked at Tetsuya's in Sydney.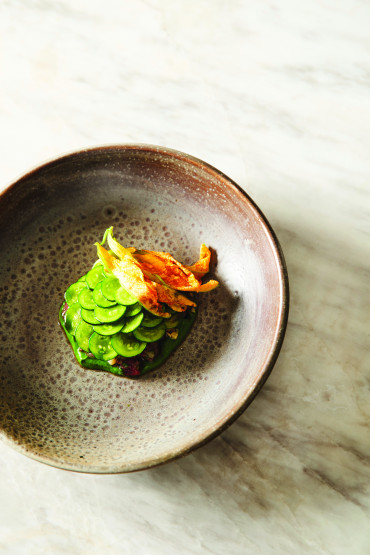 I love sashimi. It's my ultimate favourite food. Good soy sauce, a really nice piece of fish, really good wasabi­—you can't beat it. If you talk about a cooking philosophy, that's one thing I always go back to—less is more. You don't need 100 ingredients on a plate to make a nice dish."
The sauce is dashi-based, fortified with caramelised fish bones and leeks. It has a slight smokiness from bonito flakes, and the parsley and seaweed puree gives it a vibrant green colour. The pickled Japanese cucumbers have been marinated with ginger, vinegar and soy sauce. Then I add daikon, mint and baby shiso leaves, mustard flowers and seagrass. I finish it off with drops of miso and orange oil. Even though the colours make it look like a dish meant for spring, the richness of the dashi and smoked fish makes it very savoury and autumnal."
(TEXT Siti Rohani Photography Raymond Toh/Vineyard Production)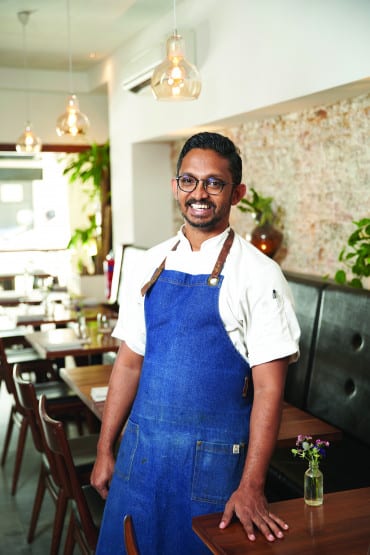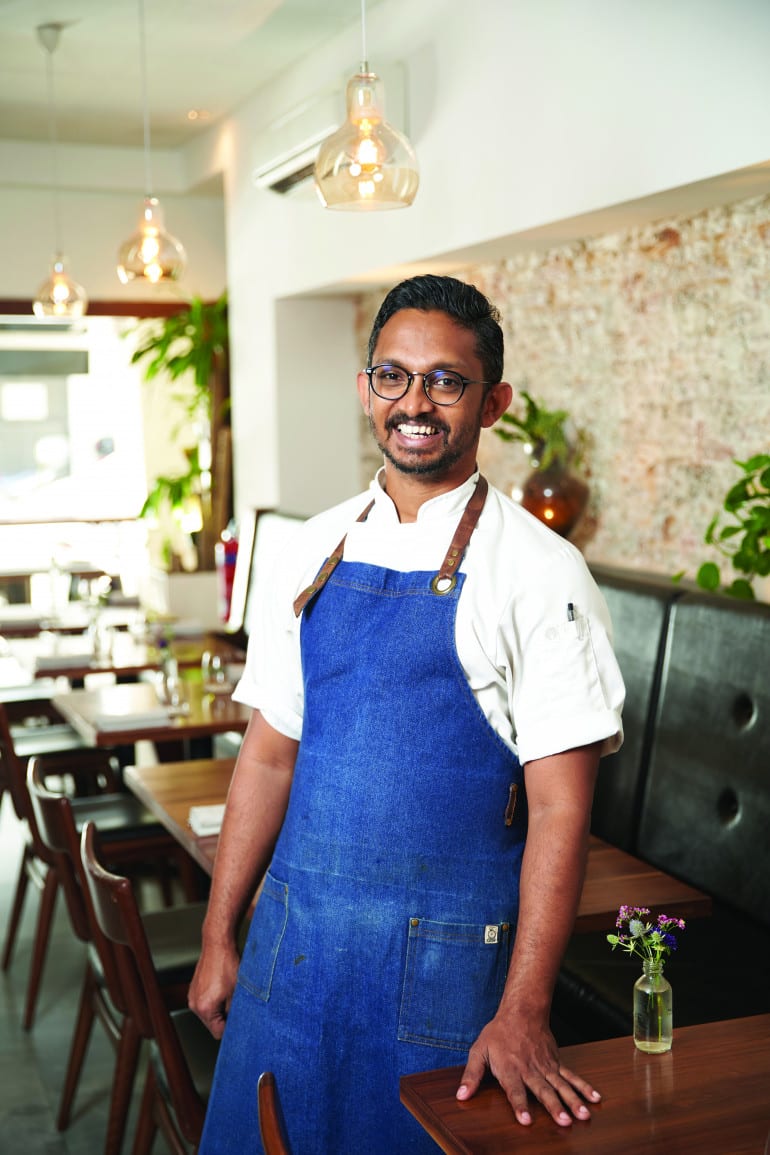 Chef Rishi Naleendra
Thirty-four-year-old chef Rishi Naleendra was born in Sri Lanka and moved to Australia as a teenager to study architecture. He decided to channel his creativity to cooking instead and gained experience at several top Australian restaurants such as Taxi Kitchen, Tetsuya's and Yellow. After moving to Singapore in 2014, Naleendra worked at the now defunct MACA in Tanglin Road, before helming modern Australian restaurant, Cheek by Jowl, in 2016. The name, which means side by side, speaks of the working relationship he has with his wife, Manuela Toniolo, who manages the business side of things. The restaurant earned a Michelin star the following year but has since closed. In the same space, Naleendra has launched a casual eatery called CHEEK Bistro. He's also opening a fine-dining, as-yet-unnamed restaurant in Amoy Street in mid-May. 
CHEEK Bistro
21 Boon Tat Street
Tel: 6221 1911