SHIGERU KASAJIMA
Head Chef, Fat Cow
Fat Cow may be known for its wagyu donburi or rice bowl. But this Japanese steakhouse is also famous for its handpicked selections of beef and Japanese wagyu. Diners can customise orders down to the meat of their choice, weight and different Japanese preparation methods including shabu shabu, sukiyaki, hobayaki and sumibiyaki. Apart from a regular menu, Fat Cow also offers special dining experiences, such as seasonal menus and food and alcohol pairing sessions with guest speakers from overseas.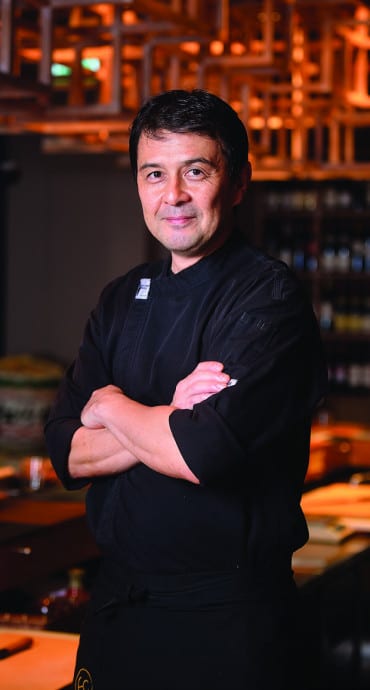 Tell us a bit about yourself.
My interest was sparked by my mother when we baked a strawberry cake together when I was a child. I started as a French chef for 14 years before I became a Japanese chef. I spent the last 17 years honing my skills as a Japanese chef in various countries including Russia, the US, United Arab Emirates and Malaysia.
What makes Fat Cow special in Singapore?
When we opened in 2011, we recognised a potential market for premium Japanese food, as well as a love for quality beef. Japanese-inspired steakhouses were also uncommon even though Singapore has many Japanese restaurants. We combined these insights, along with my passion for developing unexpected dishes that bring together the best of natural flavours. Part of the Fat Cow experience should include a fun conversation with the chefs about meat, especially if you're seated at the chef's table, where you can watch the chefs in action.
Where does your meat come from?
We handpick our selection of the finest wagyu from reputable farms around the world. We have an extensive selection of Japanese wagyu, which comes from several prefectures including Saga, Kagoshima and Ohmi; we recently introduced the award-winning Nagasaki wagyu from Nagasaki this year. In addition to award-winning beef and popular cuts, Fat Cow introduces parts of the cow that generally get overlooked, such as the tri-tip, rib flap and other non-prime cuts.
What do you look for when selecting a good cut of meat?
We take note of even distribution of marbling, meat colour, brightness, firmness and texture of meat. We are always looking out for fine meat grains and fewer muscle groups within the cut. A single muscle is best with less connective tissue, such as tenderloin or striploin.
And what is essential for good steak, Japanese style?
The main criteria are the brand and grade of Japanese beef. Japan boasts over 150 beef brands, and the brand of the beef indicates the areas where the cattle come from. The three most famous wagyu areas are Kobe in Hyogo Prefecture, Matsusaka in Mie Prefecture and Ohmi beef from Shiga Prefecture. The other important indicator of wagyu quality is the grade. The "Yield Grade" is marked by letters from A to C, of which the highest yield grade attained is A. This letter is then followed by a number between 1 and 5 — known as "Quality Grade". As such, A5 is the highest grade that wagyu can get and also the most expensive.
TOP tip
"To ensure that the steak is cooked evenly, make surethe cut isn't too thick — about 3cm maximum. Before cooking, bring the steak to room temperature, brush it with oil and season liberally with salt and pepper to get a good crust. Make sure the grill is very hot as high heat sears the cooking surface of the meat, ensuring a juicier steak with a great char. Allow the meat to rest after cooking, so the juices are evenly distributed."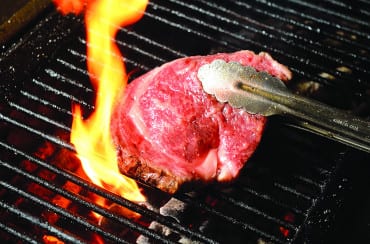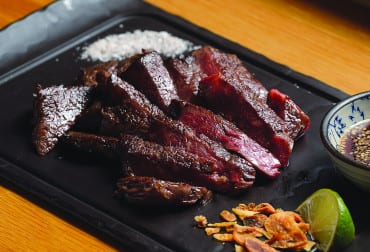 Fat Cow
1 Orchard Boulevard, #01-01/02 Camden Medical Centre
Tel: 6735 0308
IMAZEKI SHINGO
Chef and owner, Rubicon Steak House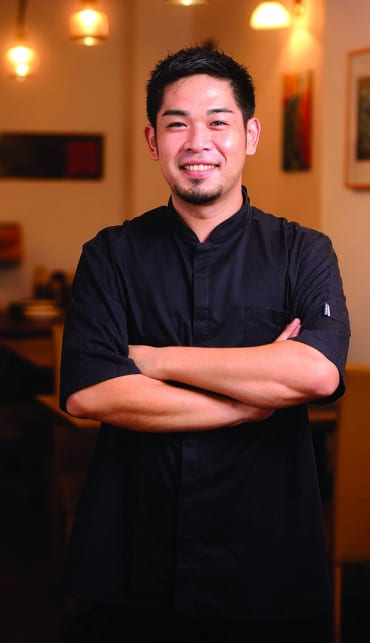 Opened last year, this little restaurant in the heart of Thomson Road boasts big flavours using only Hokkaido beef. To save on costs, its menu and interior are kept simple and nondescript, so customers enjoy reasonable prices. Its most popular dish on the menu is the combination of ribeye (500g) and sirloin (500g), making it a great sharing dish.
How did you become a chef specialising in steak?
I used to work as a sushi chef at my parents' sushi restaurant in Tokyo. Since I had an opportunity to work with Hokkaido beef in Singapore, I decided to open this restaurant last year in Singapore.
Tell us a little about how you learnt about beef.
It's not easy to butcher a large cut of beef, and how you prepare it affects the taste of the steak. Even the angle and direction of how you cut it to remove any connective tissues or fat can have an effect on the flavour and tenderness of the grilled meat. So I visited the Hokkaido regions of Tokachi, Shihoro and Tomakomai from Singapore many times to learn how to treat beef well. This means respecting the farmers who raise their cattle with great care and respecting the cattle themselves too. Serving the meat well is the best way for customers to enjoy it, and it brings joy not only to the chef but also to the cattle farmers and their cattle. Even to this day, I still visit Hokkaido to continue learning about how best to prepare the beef.
What's special about your restaurant?
Once the order comes in, we cut the beef in the requested size, then leave it to rest until it reaches room temperature before grilling it. This sounds like a very basic procedure, but it is the most important. Even though we need to take some time to prepare the dish, about 20 to 40 minutes, it's all about making the tastiest steaks for our customers. Every single piece of steak is grilled with great care.
Why does Japanese beef tend to be expensive?
The cattle farmers in Hokkaido, whom we have direct ties with, are very particular about the feed, stress care of their livestock, and so on. As a result of this thorough control of raising cattle, the meat becomes very flavourful. That's why it needs much more labour and time. The import cost is another factor. We import beef every month directly from Japan. But our prices are kept lower than usual because we have a simple restaurant and we do not advertise.


Do Singaporeans know their Japanese beef?
Though locals are familiar with Miyazaki and Kobe beef, I think they don't know much about Hokkaido beef. But when our customers try it for the first time, they are usually very surprised and pleased at how delicious it is. About 90 per cent of our clientele are repeat customers.
TOP tip
"For perfect steak, it's not just about cooking the meat. You should also spend more time bringing it to room temperature before grilling it. I recommend cooking your steak medium rare to enjoy the meat's full flavour, tenderness and juiciness."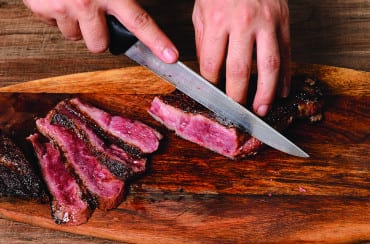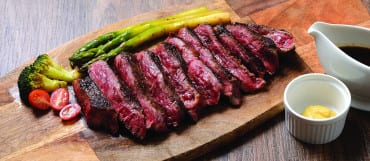 Rubicon Steak House
200 Upper Thomson Road
Tel: 8303 4075
RYOHEI KENYOSHI
Head Chef, WAKANUI Grill Dining Singapore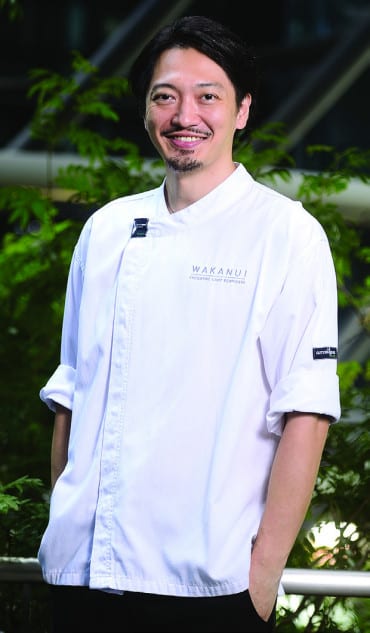 Since November 2017, WAKANUI Grill Dining Singapore has become a go-to steakhouse in Singapore, especially among the business crowd. Its most popular dishes include the 21 Days Dry Aged Ocean Beef Bone-in Ribeye and Spring Lamb Chop, as well as
Japanese-inspired appetisers, such as Char-grilled Unagi with Foie Gras with shiso leaves and Mie Prefecture Smoked Oyster with dried seaweed and tofu sauce, influenced from the chef's days working in kaiseki (Japanese haute cuisine) and izakaya restaurants. Although WAKANUI is a steakhouse originally from Tokyo, its name is not Japanese but a New Zealand one. The restaurant is owned by meat supplier ANZCO Foods, whose feedlot is located in coastal Wakanui, South Canterbury, from which the restaurant
takes its name.
Tell us a bit about yourself.
When I was 18, I cooked in a Tokyo izakaya for two years. Then I went to culinary school for a year. After that, I moved to Kanagawa, where I cooked at a Japanese kaiseki restaurant for three years, and then a French restaurant for two years. I returned to Tokyo for a short stint of close to a year at the now-defunct Ganko Jijii in Shibuya. On a three-month trip to Spain, I learnt about Spanish culture and food and had some friends teach me how to make tapas. When I returned to Japan, I became head chef at a Spanish restaurant in Ginza for two to three years. Then I joined WAKANUI in Tokyo and later moved to Singapore.
What is special about Japanese steakhouses?
It's in the way the dishes are prepared, with care and elegance. Grilling with binchotan charcoal is another key element which creates flavours unique to WAKANUI.
How are they different from Western steakhouses?
We do not use condiments with bold flavours such as mustard, mushroom sauce, red wine sauce or black pepper sauce like in American steakhouses. Just well-seasoned meat grilled over binchotan and served with a side of light wasabi and Christmas Island sea salt.
Why did the restaurant open in Singapore?
We realised the majority of the steakhouses here were either Italian or American, and we thought bringing in this concept as a franchise from Tokyo would open up the repertoire of steakhouses in Singapore. WAKANUI is special because we know where we get our meats from — the owners of WAKANUI are a meat-producing and distributing company called ANZCO Foods. So the process from pasture to the grill is carefully controlled to ensure premium quality and consistency.
Tell us more about the restaurant's meat and the speciality, Ocean Beef.
The meat comes from New Zealand, although the lineage of the Black Angus is from Japan. Since Japan is gradually going through urbanisation, fewer people want to be farmers and land for farming became scarce. The concept behind Ocean Beef was to develop beef that achieves the perfect balance between marbling and leanness, while retaining natural juiciness and an intense beef flavour. Ocean Beef is produced from the Angus breed in the Canterbury Plains in New Zealand's South Island. The cattle are grass-fed for 18
months in a stress-free environment to develop a muscular form, and then graze on specially formulated wheat, barley and maize-based feed for four months at the ANZCO Foods' Five Star Beef Feedlot.
TOP tip
"For the best cut, choose dry-aged, bone-in beef for more moisture and flavour. Grain-fed beef is also sweeter."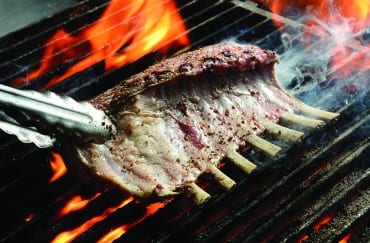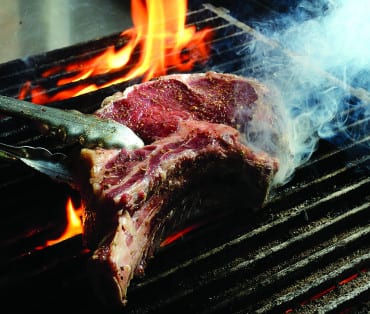 WAKANUI Grill Dining Singapore
5 Straits View, #04-02 Marina One The Heart West Tower
Tel: 6384 2665