Oct 1, 2019
It may sound like an odd coupling, but Japanese sake and Italian food can be an unexpectedly delicious combo.
Say Japanese sake and the usual suspects of sashimi, ramen, tempura and grilled meats come to mind immediately as the ideal complements. But what if you paired sake with Italian cuisine? The idea isn't as far-fetched as it may sound. Sake lovers will tell you that the drink as the most unami (best described as the fifth taste alongside sweet, salty, bitter and sour) compared with other alcoholic beverages like wine and beer.
In fact, some fans even go as far as to say that sake offers more of an aftertaste of cheese than white wine does, which means that the Japanese drink goes well with anything cheesy — something that features heavily in most Italian menus. And if you are looking for the
ultimate gastronomic high, then coupling a unami drink with unami food will get you there. Fast.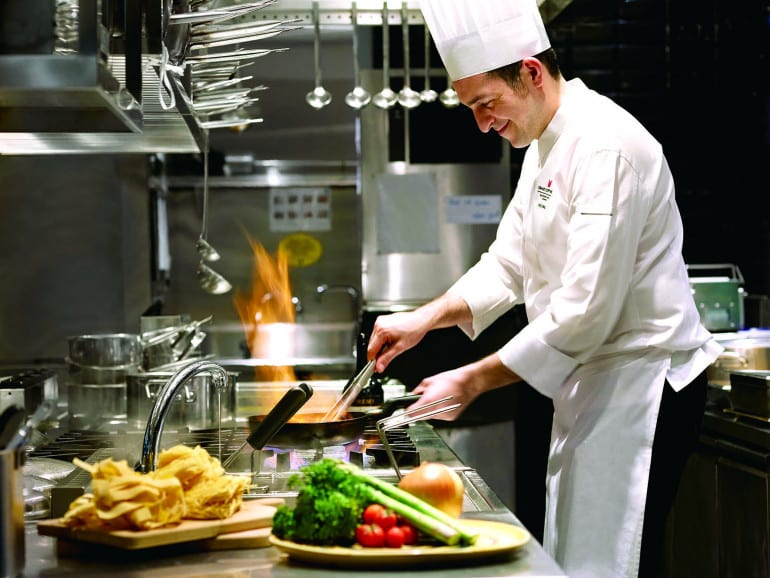 Mirko Vinci, head chef of Italian grill restaurant Grissini at Grand Copthorne Waterfront Hotel, definitely thinks so. "In general, sake works very well with Italian food because the principles of making them are very similar. You have to start with a good base ingredient — for sake, it's water and rice and, in Italian food, it's the flavours of the land."
For instance, Grissini serves lip-smacking options like lobster tagliolini, homemade potato gnocchi, braised wagyu beef cheek and a variety of charcuterie dishes with deli meats, dried fruit, cheeses and heirloom tomatoes.
"The generally low acidity of most sakes helps to enhance many unami flavours found in Italian food," adds Vinci, who hails from the Puglia region in southern Italy, where he would help his mother and grandmother whip up hearty Sunday lunches.
"I feel that the best dishes to try are those that have a stronger flavour profile as the acidity helps to spread those flavours throughout the mouth."
After all, modern sakes now include highly acidic, fruity and even sweet and sparkling formulas.
In general, sake experts liken sake pairing to Western wine pairing. So, if you are having seafood or fish, go with a light-bodied sake. But if you are having meat or grilled dishes, a more complex sake with more body and structure would enhance the robust flavours.
If you feel adventurous, you can even play with similarities: Sip on a fruity, citrus sake while nibbling on savoury food that tastes best with a squeeze of lemon, like baked fish, for instance. Sake, however, does not complement very spicy dishes, which you usually do not find
in Italian cuisine anyway.
Says Vinci, who has worked with Michelin-starred chefs in Milan, London and Singapore: "Everyone's taste is different. There really isn't a right or wrong in how you pair your sake with your food. What's important is what we taste for ourselves. The best pairings are always those which feature seasonal flavours and fresh ingredients."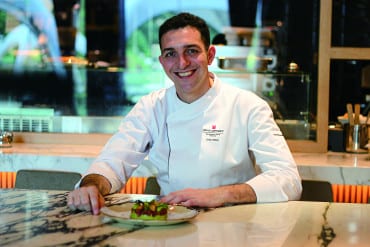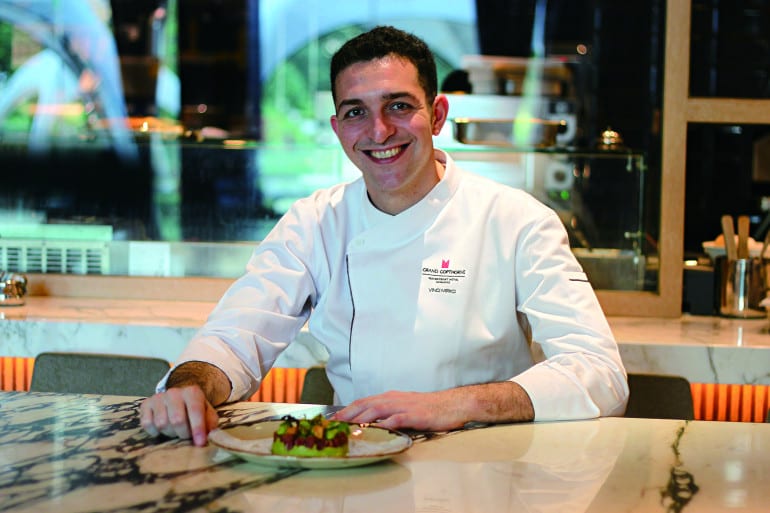 Mirko Vinci, head chef of Italian grill restaurant Grissini at Grand Copthorne Waterfront Hotel