Oct 3, 2019
Chef Haikal Johari from Alma by Juan Amador adds French nuances to a charming combination of Hanasaki crab and muskmelon.
Alma by Juan Amador's reputation precedes its creations. The modern European restaurant has a single Michelin star and bears the name of legendary celebrity Chef Juan Amador. There is also a powerful back story behind the 42-year-old chef who helms the kitchen today. After a
motorbike accident, Executive Chef Haikal Johari was left paralysed from the neck down. Undeterred, the chef continued to run the restaurant, maintaining the restaurant's Michelin star from his wheelchair.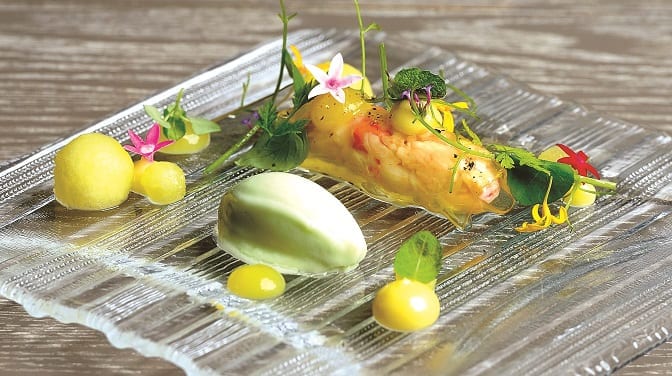 You would expect a chef who made his craft his raison d'etre to have a more complicated culinary philosophy. However, Chef Haikal's approach could not be simpler. "Use the best produce available from any part of the world, and make food that is tasty and looks good," he says matter-of-factly.
That is the essence of his signature offering this season, Hanasaki Gani. Despite its poetic name, which means "Red Flower's Wish" in Japanese, the real magic lies in the ingredients. Hanasaki, of course, also refers to the famous Hanasaki crab. This sweet crustacean is
imported from Hanasaki port in the crab capital of Japan, Hokkaido. It is combined with muskmelon from Iwata, the most expensive fruit in Japan, as well as locally sourced calamansi and herbs.
The main ingredients may be from Japan however, the chef shares that the dish reflects French influences. "Using crab with fruits is a western style of food pairing. We paired the Japanese crab with melon for sweetness and calamansi for acidity," he explains. This light and refreshing combination does not feel heavy even on the most sweltering days.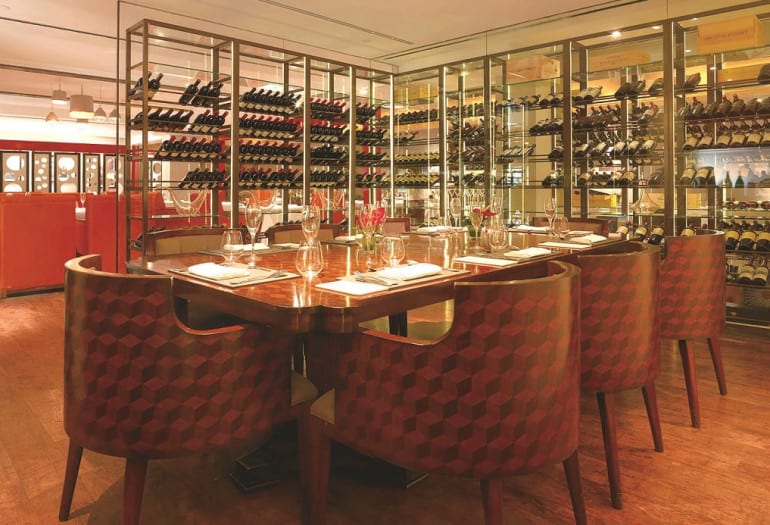 To extract the full flavour of the ocean, the crabs are simply steamed. Japanese muskmelon is served fresh and also as a sorbet to add a touch of coolness, brightness and freshness. Finally, the calamansi is made into a very thin jelly to encase the crabmeat. The meat and skin of the fruit is also cooked into a bright, slightly tart jam to balance this sweet creation.
"Our philosophy is to showcase the different textures and flavours of a single ingredient," shares Chef Haikal. With a combination of European and Japanese techniques, he brings out the character of the crabs, muskmelons and calamansi in a new exciting way. After all, Alma means "soul" in Spanish. And ingredients are the soul of a great dish.
PASSION ON A PLATE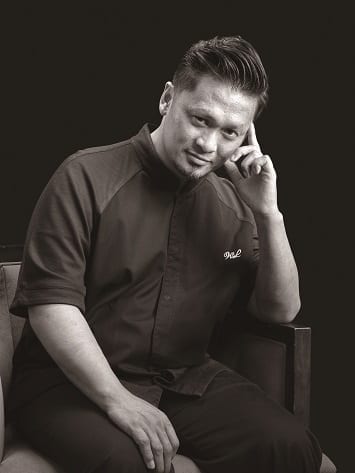 It is hard to mention Chef Haikal Johari these days without thinking about his motorcycle accident in October 2015. It left him paralysed from the neck down, a condition that doctors said he might never recover from.
The gritty chef however, rose above personal tragedy. Despite being wheelchair-bound, weakened and having to go for frequent physiotherapy, Chef Haikal continued to lead the Alma team to maintain their Michelin one star, staying up with them until the wee hours to perfect each dish.
His passion not only propelled him to push culinary boundaries, but also aided in his physical recovery — he can now walk a short distance. In 2019, he was awarded a Goh Chok Tong Enable Award, which recognises the remarkable achievements of persons with disabilities.
Even before his accident, he was an accomplished chef who honed his craft at some of the finest restaurants in the region, including the Water Library in Bangkok, Thailand. He combines his training in European cuisine with his love for Asian ingredients to come up with creative dishes that excite the tastebuds.
Alma by Juan Amador is at Goodwood Park Hotel, 22 Scotts Road.
Tel: 6735 9937