Hike in an ancient valley, race down a corridor, make mochi and more — the things to do in Nanyo (southern Ehime), are a little relaxing, a bit unusual and a whole lot of fun.
Finding beauty in a ravine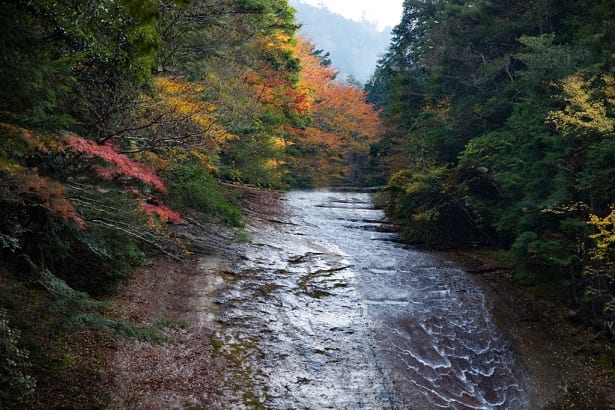 The spectacular Nametoko Valley is located along the Meguro River, a tributary of the Shimanto River. Clear streams gush down massive granite rocks that have eroded over time. An iconic sight here is Yukiwa Falls, tumbling down a gigantic monolith and considered to be one of Japan's best 100 waterfalls. Hike along the 12km of well-maintained walking trails. With its incredible natural surroundings, the gorge is a popular hiking destination especially during autumn, when the leaves turn gold, amber and crimson. It is also one of the country's best canyoning spots in summer, with enthusiasts gleefully sliding down the giant smooth stones.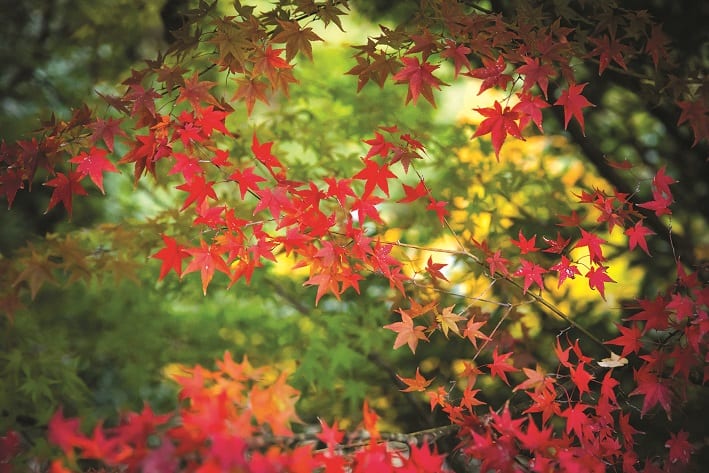 Temple meditation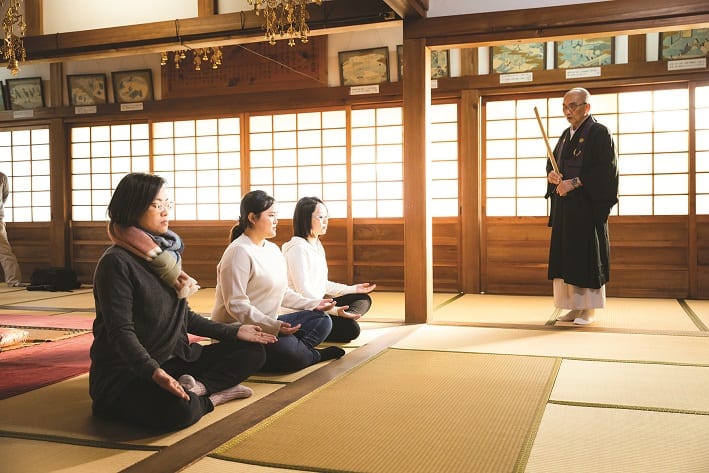 A spot of calm can lift anyone's spirits. Just ask the hosts at Forest Country Inn Azamino, who will lead you to Kentokuji Temple, where you can pick up a tip or two if you are keen to learn to meditate. The grounds of this mountain temple are especially beautiful in autumn, when the leaves of the giant ginkgo trees change and turn bright yellow. The temple priest is on hand to teach you the basics of Zen meditation, complete with stern instructions to sit up straight. Finish your meditation with a contemplative Japanese tea ceremony, complete with pretty wagashi (Japanese sweets).
594 Meguro, Matsuno-cho, Kitauwa district, Ehime 798-2106
Get set, clean!
Every day, people visit the Uwa Rice Museum to channel the fastidious habits of Japanese students, famous for cleaning their classrooms themselves. With bums in the air and hands on their dust cloths, intrepid participants take part in a corridor cleaning
race at this former elementary school. Known as the Z-1 Grand Prix, it tends to be a laugh-filled but excruciating race to see who can wipe the floorboards of the never-ending 109m wooden corridor — the longest in Japan — first. The record is an unbelievable 18.17 seconds, but realistically this is going to take you more than 20 seconds. Sadly, I let the Singaporean side down with a time of four minutes and five seconds — a disaster!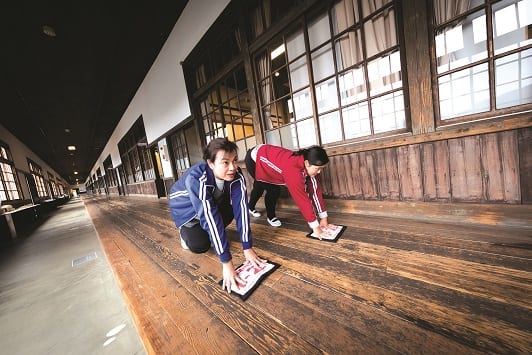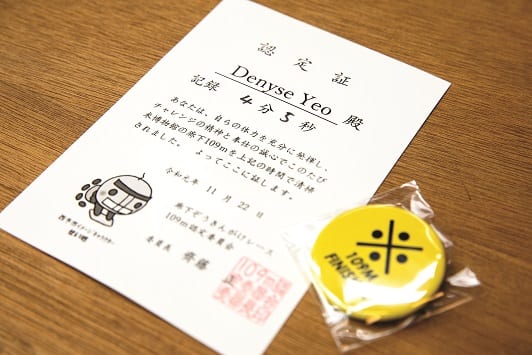 2-24 Unomachi, Uwa-cho, Seiyo city, Ehime 797-0015
A fishcake called jakoten
Once, the popular snack jakoten, or Japanese fishcake, was made entirely by hand using fish paste. Today, the machines at Yasuoka Kamaboko do all the hard labour of mashing, shaping and frying the paste. But the taste is said to remain the same. The manufacturer of Uwajima Jakoten now has more than 1,200 factories in the world, but only the 30 factories in the area use local fish, particularly baby sardines. Everything, from the bones to the skin, is thrown in the mix and the resulting fishcake is firm, bouncy and full of fishy goodness. Try our hand at making and frying up a jakoten. You can even shape each fish patty to look like a heart!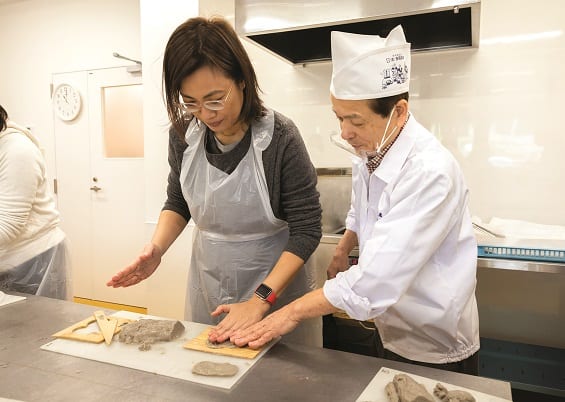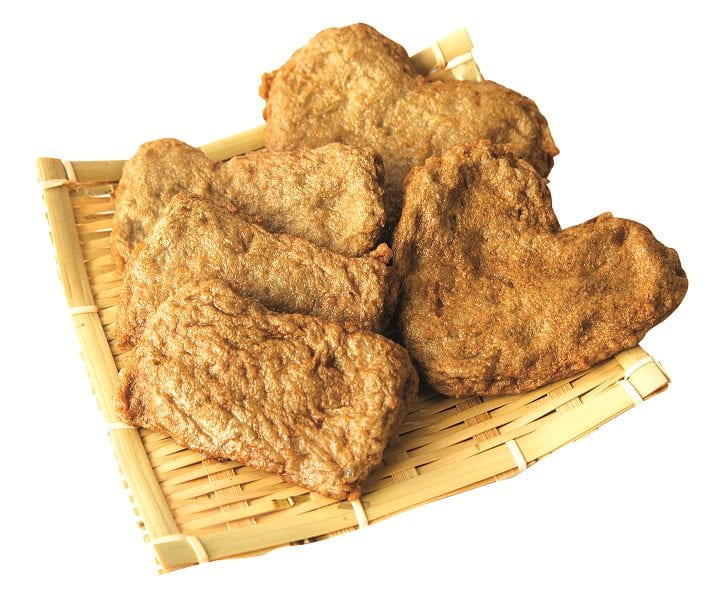 293 Nakanonaka, Mima-cho, Uwajima city, Ehime 798-1133
Pound that mochi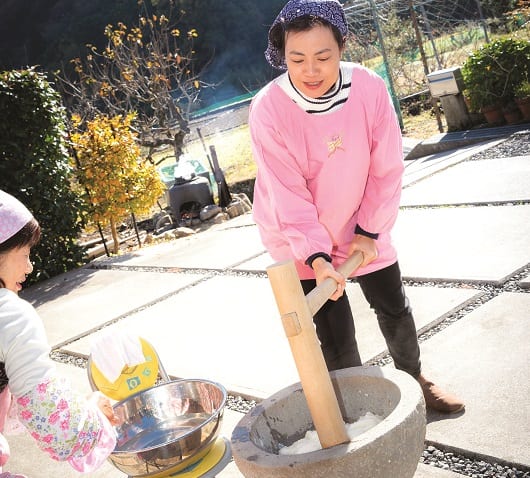 Mochi is one of Japan's quintessential foods and making mochi by hand is an unforgettable experience. Traditionally a communal experience, especially beloved during the New Year, mochi making should be a highlight on your Ehime trip. You can experience this treasure at Yama Ajisai Guesthouse. Wielding huge wooden mallets, you and your host take turns to pummel the living daylights out of steamed glutinous rice. Both of you need to keep a steady rhythm, otherwise you could lose a hand in the process. But what is reward without risk? After shaping the sticky rice into round balls and stuffing them with anko (sweet red bean paste) or yomogi (mugwort), your prize is eating these warm, soft, freshly made mochi on the spot.
746 Nara, Kihoku-cho, Kitauwa district, Ehime 798-1352
Owners of Yama Ajisai Guesthouse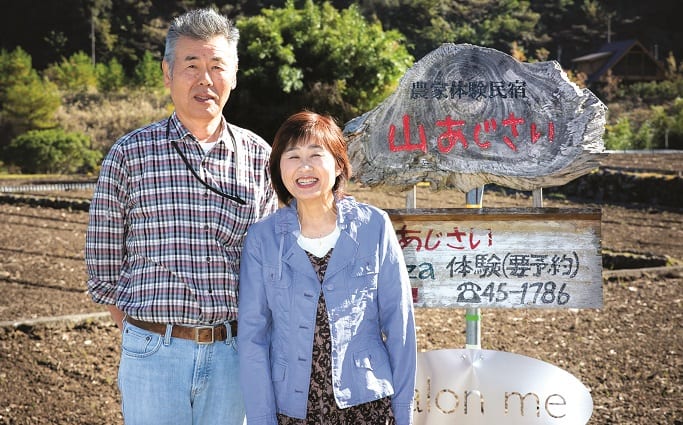 This cute couple refurbished their home and turned it into a warm and welcoming farm stay that also offers cooking activities. Nanae is a retired nutritionist while her husband Tatsuya also works as a part-time caregiver.
What do customers love most?
Nanae: Guests enjoy the seasonal views, which we now appreciate more! City people are very busy, so they can enjoy the slow, relaxing life here. Most of our guests are from the south of Tokyo but some are also from neighbouring towns. We even get exchange students.
How do you feel about your business now?
Nanae: It's very fun and exciting. I imagine the guests are excited to be here and I am happy. It's hard work but I love it.
Tatsuya: It's about omotenashi — serving our guests and making them feel at home.
You offer different cooking activities, like making pizza and pickling. Why?
Tatsuya: I know how to make konnyaku, but many young people don't. I would like to pass down this type of knowledge to the younger generation. Nanae: These classes also help me make many connections, so I want to keep doing it. I really enjoy building new relationships.