Unforgettable meals await, from the freshest seafood and wild dishes for those who are game. Eat your way through Nanyo!
Kiji Nabe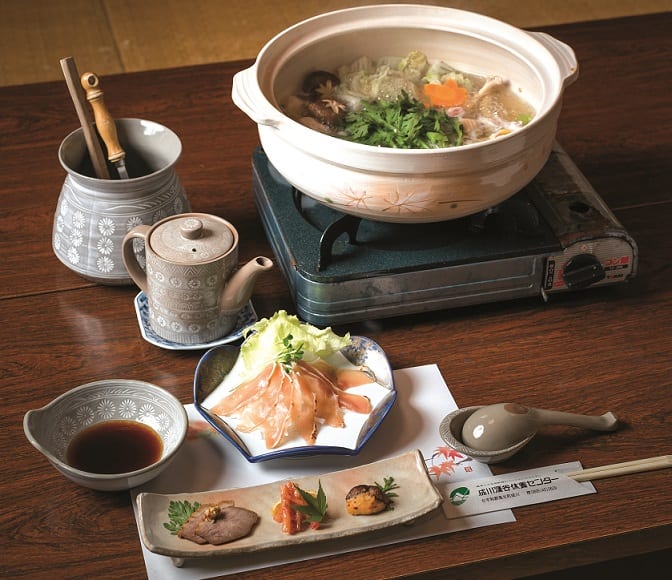 You've heard of nabe or Japanese hotpot. But have you heard of kiji nabe? That's pheasant hotpot, a speciality of Kihoku town in Ehime.
The dish was once a favourite among Japan's royal family and remains an uncommon menu item elsewhere in the country. One of the most atmospheric places to try this famous dish is at the lodge in the Narukawa Valley Rest Center. Thinly sliced pheasant breast, daikon, mushrooms, leek and other hotpot ingredients are simmered in a delicate ponzu soup laced with pheasant fat.
The amino acids in the pheasant meat are considered to be more nutritious than chicken, with winter being the best time to eat it as the meat is fattier and tastier — making kiji nabe a real winter warming dish.
Nara, Kihoku-cho, Kitauwa district, Ehime 798-1352
Kaisendon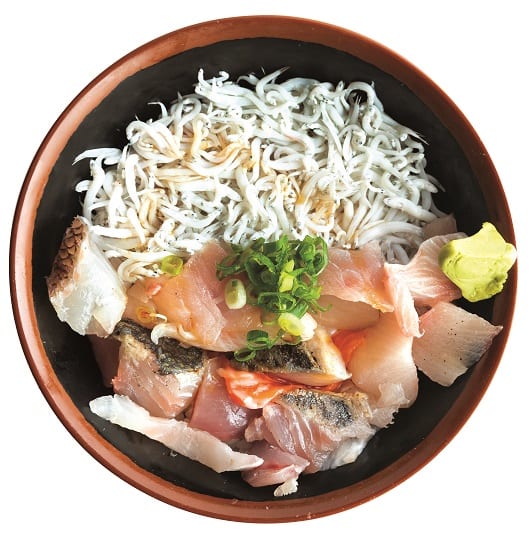 Nothing beats eating fish freshly caught from the market. And in Japan, the best places to eat your fill of sashimi and seafood is at fish markets. The fish market in Yawatahama city is no different, with its seafood eatery Doya Shokudo located at the Roadside Station Yawatahama Minatto. Dig into kaisendon, or sashimi rice bowls, filled to the brim with the catch of the day just arrived at the market next door. When we were there for breakfast, we tried a rice don with a cloud of seasonal shirasu (whitebait) along with thick slices of tai (Japanese sea bream), topped with a dollop of wasabi and chopped spring onions, and served with a sweet soya sauce.
1581-23 Okishinden, Yawatahama city, Ehime 796-0087
Grilled Amago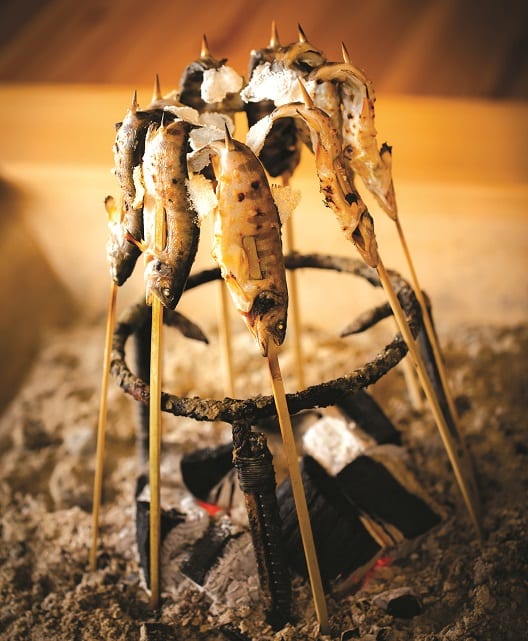 Numerous farm stays are available in the forested Ashizuri-Uwakai National Park and Narukawa Valley. One of the highlights surely is tucking into an unforgettable homestyle meal filled with local specialities made with the region's seasonal ingredients. Take Yama Ajisai Guesthouse. This refurbished wooden farmhouse has a traditional irori (sunken hearth) that allows amago (river trout) and other foods to be grilled over red-hot charcoal. The lunch spread we tried included grilled amago, vegetables from the farm, as well as homemade konnyaku, wild boar soup and sansai gohan (rice with wild mountain vegetables).
746 Nara, Kihoku-cho, Kitauwa district, Ehime 798-1352
Venison Stew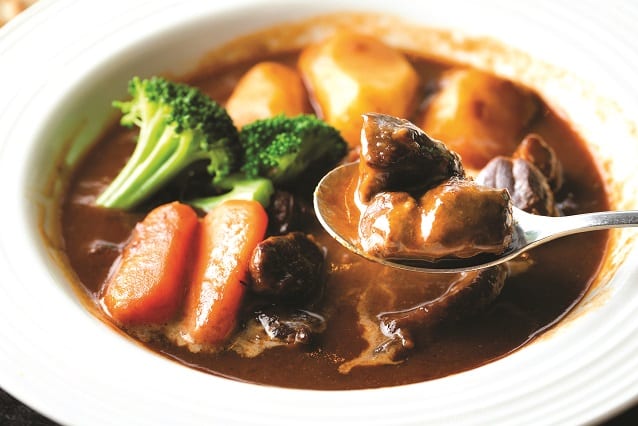 The Japanese tend not to eat much game, like venison. But Nakaune Ichiro, chef-owner of Café Restaurant Tommy, wanted to show that deer meat could be tasty too. When the town's butcher began to sell venison a few years ago, Nakaune decided to whip up a slow-cooked venison stew made with new vegetables, port wine and cacao powder. The hearty stew takes three days to cook and has become a customer favourite. He says: "Venison is low in fat, has a nice umami flavour, and gives you more energy than beef and pork." While you're tucking in, check out the restaurant's rock vibe with vinyl record covers on the wall. A huge metal fan, Nakaune also spins old-school rock from the turntable in the evenings when the restaurant turns into a funky bar.
227-2 Matsumaru, Matsuno-cho, Kitauwa district, Ehime 798-2101
Champon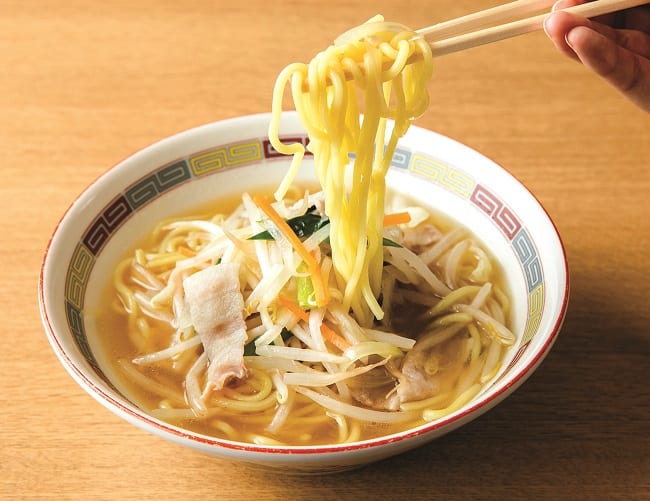 Yawatahama city is filled with restaurants selling champon, Japanese noodles in a pork broth that originated in Nagasaki. One place to try the dish here is at Chanpontei Eagle. For 60 years, this casual eatery has served its famous champon, made unusually with chicken stock, a shoyu base and loads of vegetables. Original recipes include chahan (fried rice with roasted pork) and demi katsudon (with
demi-glace sauce). The eatery also serves different varieties of champon, including a super-spicy version using Thai chilli. What sets the place apart is that you are meant to eat the champon as a set with a small serving of delicious chahan. Comfort food!
358-2 Nakanomachi, Yawatahama city, Ehime 796-0075
Owner of Chanpontei Eagle Interview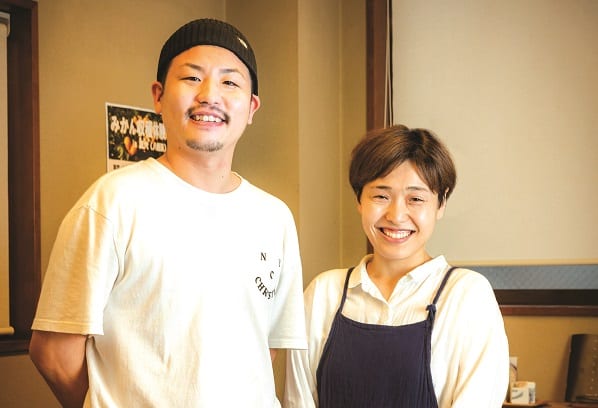 This third-generation restaurant owner continues the 60-year-old family business of making great champon, the original soul food of Yawatahama city.
Did you always want to run the business?
Not at first. I knew I would not be able to go out on weekends as I saw my parents working all the time. I'm trained as a graphic designer, so I moved to Tokyo to work. But it was not easy. I would wonder about my life direction, then I heard that my grandfather's health had worsened.
How did you bounce back?
I found work as a cook at a popular Singaporean restaurant in Tokyo! I worked there for four years learning dishes like Hainanese chicken rice. Till today, my favourite dishes are laksa and bak kut teh. Becoming a cook made my granddad happy and relieved that the family was back in the business. After that, I returned to Yawatahama with now-wife, Maya (with him in the photo above) — she was a waitress at the restaurant.
What changes await your restaurant?
I'm now streamlining the menu and want to add more spicy food. My red champon noodles uses chilli padi from Thailand — and is very popular! Maybe I will introduce some foods from Southeast Asia. But I hope to visit Singapore and that region very soon.