Wasabi is a perennial plant of the family Brassicaceae, genus Horseradish, native to Japan. There are two types of wasabi: wasabi grown in mountainous areas, in mountain streams with spring water or clear streams, and field wasabi, which has the same botanical classification but is grown in cool, humid fields. The optimum temperature for the cultivation of wasabi is between 12°C and 13°C, and even in mid-summer the temperature should be below 16°C. It is a plant that can only be grown in a few places in Japan, as it requires a clear and abundant water supply.
The present, wasabi is an essential ingredient in Japanese food culture, but it is also known to have been used as a medicinal herb since the Asuka period.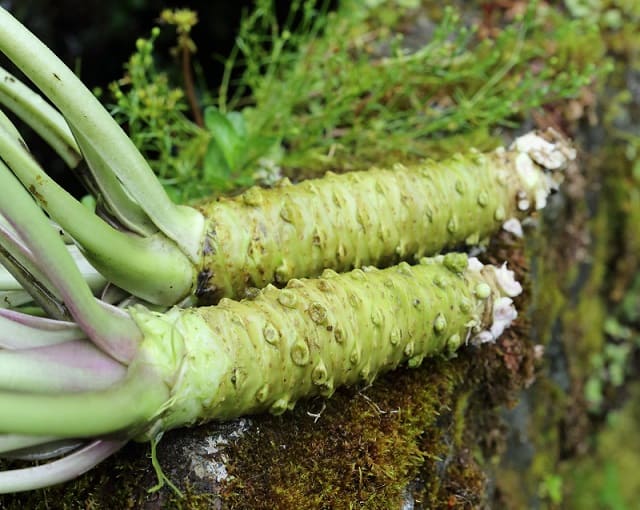 The nutrition of wasabi
Wasabi is a very nutritious food. Its antioxidant properties, which prevent the body from rusting, inhibit ageing and are said to be effective in anti-ageing.
It is also a detoxifying agent that eliminates toxic substances from the body, a carcinogenic agent that inhibits the growth and metastasis of cancer cells, and an anti-inflammatory agent that reduces pain caused by inflammation. It is said to reduce the action of proteins that are involved in platelet aggregation, so it can be used as a blood thinner. Blood thinning means that blood circulation is increased, which can have a cooling effect.
Eating wasabi regularly improves blood flow throughout the body, and some people have reported that it has relieved coldness and stiff shoulders.
It also has antibacterial properties which help to prevent food poisoning and food spoilage.The garnishing of raw food is not only for the purpose of deliciousness, but also for its importance.
Recipes for Wasabi
Marinated vegetables with wasabi and soy sauce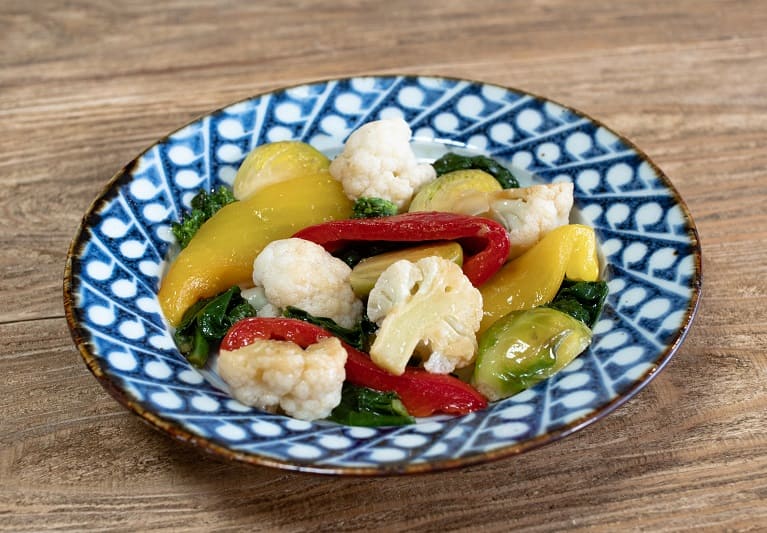 Ingredients (3 to 4 servings) :
Cauliflower…1/2 share
Brussels sprouts…4 pieces
Paprika (red, yellow)…1/2 each pieces
Nabana…1/2 bunch
★Mixture A:
Shunyakumi Oroshi Honwasabi…2 bags
olive oil…50g
Lemon juice…15g
Soy sauce…20g
Method:
① Cut the cauliflower and Brussels sprouts into bite-sized pieces and boil them briefly.
② Remove the seeds from the paprika, cut in half, grill the surface and peel off the thin skin.
③ Boil the nabana briefly and cut into pieces.
④ Combine A in a container, soak ①, ② and ③, cover with plastic wrap and leave in the fridge for 30 minutes.
Rare Tuna Cutlet with Wasabi Tartar Sauce
Ingredients (2 servings) :
Tuna sashimi…2slices
A(Cake flower…40g・Water…60ml)
Salt, breadcrumbs, Ageyu…Applicable amounts
★Wasabi Tartar Sauce:
Boiled egg…1pies
Green shiso (shredded)…4 sheets
Onion (finely chopped)…1 tablespoon
Mayonnaise…2 tbsp
Shunyakumi Oroshi Honwasabi…2 bags
Salt…a pinch
★Garnish:
Cabbage (shredded)…proper quantity
Method:
① Sprinkle the tuna with salt and leave for 10 minutes, then pat dry.
② Dip ① in the A mixture, then coat with breadcrumbs.
③ Heat the oil in a frying pan and fry for 30 seconds to 1 minute on each side.
④ Mix all the ingredients for the wasabi tartar sauce and serve with the cabbage on the cutlets.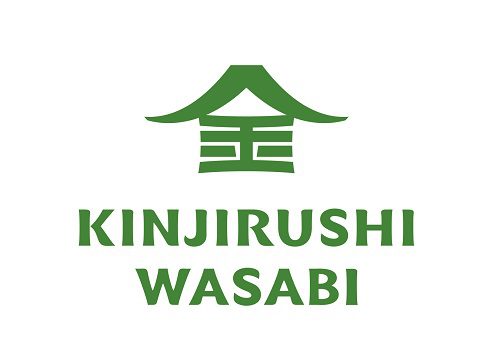 Sponsored by KINJIRUSHI Co., Ltd.
https://www.kinjirushi.co.jp/english/
23F Nadya Park Business Center Building, 3-18-1, Sakae, Naka-ku, Nagoya-shi, Aichi.
Japan
Postal Code 460-0008
TEL +81-52-242-0008