With rich and diverse cultural, historical and culinary delights, the Setouchi region within the Seto Inland Sea is set to be your new favourite destination.
The Setouchi region of Japan encompasses the islands and coastal areas within the Seto Inland Sea, the 400-kilometre stretch of water that lies between three major Japanese islands: Honshu, Shikoku and Kyushu. With a moderate climate, the region is comfortable to visit year-round, and with a relatively lower profile outside of Japan, it offers a laid-back experience without the hordes of tourists. But that might change as it was recently named No. 7 of 52 Places You Should Visit in 2019 by The New York Times.
The region encompasses several prefectures, including Hiroshima, Ehime and Okayama, as well as thousands of smaller islands. For this issue, we take a closer look at Onomichi and Tomonoura in Hiroshima Prefecture, and Ehime Prefecture.
The two prefectures are connected by the Shimanami Kaido, a nine-bridge 60-kilometre expressway linking Honshu with Shikoku. What's special about the expressway is it also has a slightly longer dedicated bicycle lane—at 70 kilometres—that has been drawing avid cyclists to the region. The Shimanami Kaido starts at Onomichi and ends at Imabari in Ehime Prefecture.
You can also get around on trains easily on West Japan Railway Company (JR West)'s services. With a direct flight from Singapore to Hiroshima, you can begin exploring the Setouchi region as soon as you touch down. There's a shinkansen high-speed train and a local train from Hiroshima to Onomichi and from there you can connect to Fukuyama, the nearest town to Tomonoura.
From Hiroshima, you can choose to take a train or ferry to Matsuyama, Ehime's capital city.
They may be different cities with different histories and cultures but the Seto Inland Sea, also known as Setonaikai, binds them together with shared characteristics. One is their love for tai, or sea bream, though each area has its own unique way of showcasing this versatile fish. In Ehime, it comes in the form of tai meshi, steamed rice cooked with the bream, after which the fish is deboned and mixed in along with fish broth.
In Tomonoura, tai is particularly abundant due to the converging tides. There, the tai dishes come in many forms, including sashimi and tempura. Citrus fruits are also an important produce in the area. Ehime is synonymous with the mikan orange while Hiroshima is known for lemons.
Let's get to know these different places.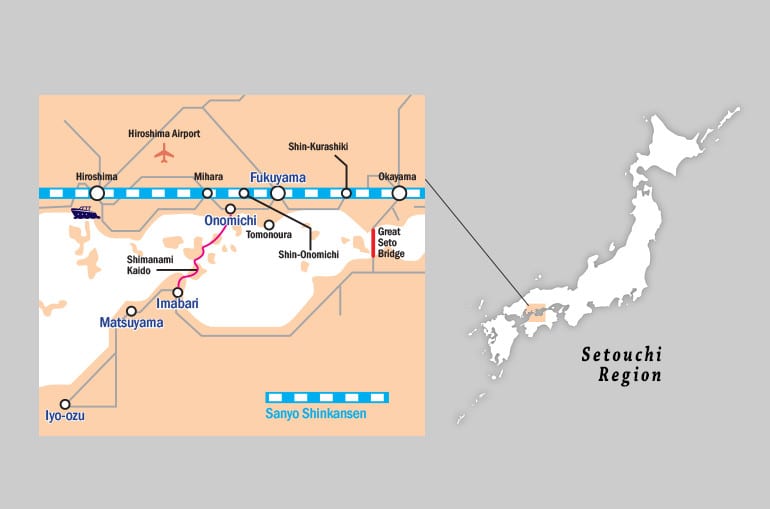 >>The old-world charm of Onomichi
>>Step back in time in Tomonoura
>>Experience Ehime's diversity
>>Take these Setouchi souvenirs home
(TEXT Siti Rohani Photography chisato nyunoya)