To the people of Shiga Prefecture, Lake Biwa is known as the Mother Lake. The enormous lake—which spans 670.4 square kilometres—provides locals with a profusion of fish, but its fresh, clear water also sustains life around the lake. From Omi rice, grown in abundance around Lake Biwa, to the wide variety of vegetables cultivated in each district, Shiga's lands are fecund and flourishing.
Omi rice from Green Farm Yunokuchi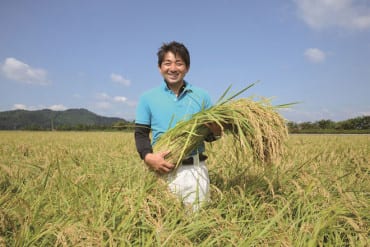 Located on the eastern side of Lake Biwa is a 40-hectare plot of farmland where second-generation rice producer Junya Yunokuchi runs his business. What's unique about Omi rice is how Yunokuchi has committed to cutting the use of chemical pesticides and fertilisers by 50 per cent, which benefits both consumers and the environment. Plus, the proximity of the rice fields to Lake Biwa is beneficial for a rich and abundant harvest. Omi rice, especially the Mizukagami and Koshikari variants, are renowned for their slightly sweet flavour and plump, firm grains.  
Green Farm Yunokuchi
680 Kurimishinden-cho, Higashiomi City,
Shiga 521-1243
Tel: 0748-45-0765
Persimmons from Ibuki Farm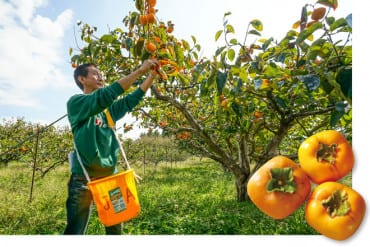 After he retired from the civil service 15 years ago, Ryuichi Taniguchi wanted to revive the farming community in this area of Shiga Prefecture. So he bought three hectares of land and started cultivating persimmons, ibuki daikon, buckwheat and various crops. The persimmons from Shiga are well loved for their extraordinary sweetness, and Taniguchi attributes this to the climate of Shiga. The area surrounding Ibuki Mountain is warm in the day and cold at night; the contrast in temperatures helps the cultivation process as the cold weather helps increase the sugar content of the persimmons. The persimmons cultivated at Ibuki Farm are the seedless type, known as Hiratanenashi-kaki.
Ibuki Farm
917 Okubo Maibara City,
Shiga 521-0370
Tel: 0749-58-0906
Asamiya Tea from Katagi Koukaen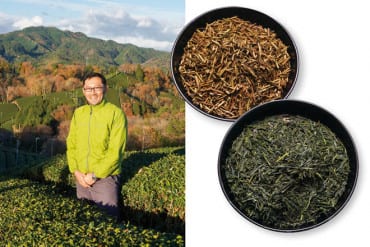 The Asamiya tea variant has a long history that dates back 1,200 years, and Shigaraki-cho (a region in Shiga Prefecture) is the oldest tea production area in Japan. This particular tea has always been the tea of choice for the Japanese monarchy and nobility because of its distinctive fragrance and refined, sophisticated flavour. Takatomo Katagi at Katagi Koukaen is committed to using only organic fertilisers, with zero use of chemical pesticides.
Watch OISHII TV
Katagi Koukaen
1090 Miyaziri, Shigaraki-cho, Koka City,
Shiga 529-1843
Tel: 0748-84-0135
Yahei Togarashi from fm craic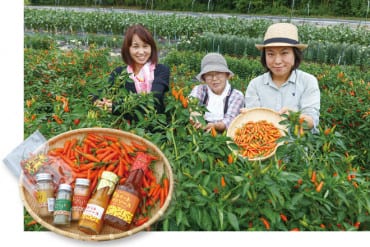 You probably wouldn't associate Japanese food with fiery spices, but the truth is Yahei Togarashi has been cultivated in Shiga Prefecture for over 100 years. However, it's only recently that this chilli pepper has been processed into seasoning powder by fm craic, a brand started by two entrepreneurial young women, Yuzu Sasaki and Yukiyo Mitaka. This particular variant is twice as spicy as regular red chilli but just as sweet as a Japanese tomato, giving it a unique moreish flavour. Using Yahei Togarashi as a base, fm craic produces a variety of seasoning powders and sauces. (See Souvenir page)
fm craic
1-2, Takamatsu-cho, Konan City,
Shiga 520-3211
Tel: 0748-75-8810
Omi Beef from Okaki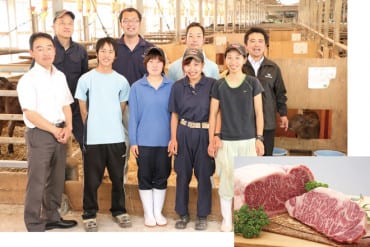 With a history of over 400 years, Omi beef is widely acknowledged as the oldest beef brand in Japan. Omi beef is highly regarded for its distinctive chewy texture and tender quality, but not all cattle are the same. Takeki Okayama, CEO and president of Okaki, which has been producing Omi beef since 1839, says that at his farm, the cattle are provided high-quality care in a lush, natural environment.
Okaki
5294 Yamanoue, Ryuou-cho, Gamou-gun,
Shiga 520-2531
0748-57-0568