Learn how magewappa artisan Yoshimasa Shibata is keeping Akita woodcraft tradition alive in everyday modern life.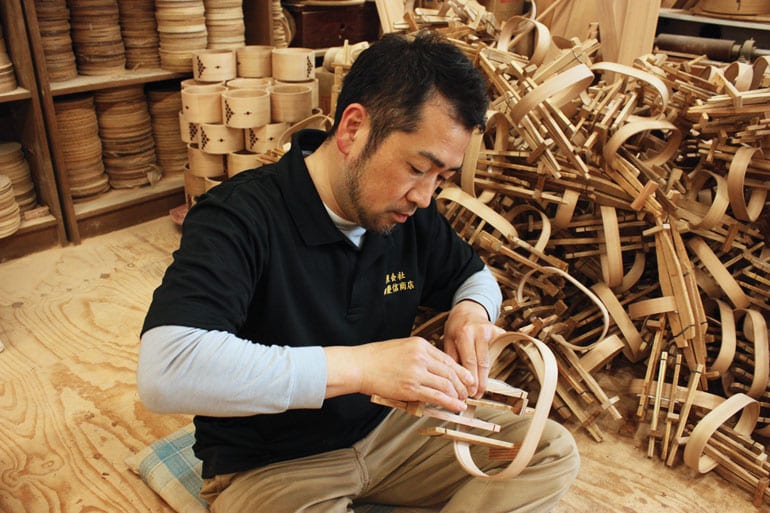 If you've travelled to Japan, chances are you've seen the uncoated cedar wood bento boxes in souvenir and handicraft stores. But these aren't any ordinary lunch boxes. Instead, these handcrafted items, created by artisans in the Odate area in Akita prefecture, are among some of the most sought-after traditional Japanese products today.
The craft of using Akita cedar wood and transforming them into silky smooth products such as bento boxes is called magewappa (meaning "bent wood" in Japanese), and is practised only by a handful of certified traditional craftsmen in Japan.
One of these magewappa artisans is Mr. Yoshimasa Shibata, owner of magewappa speciality store Yoshinobu Shibata Shoten, who is continuing the business started by his father in 1964. He says: "Akita cedar is one of the most beautiful materials in Japan, and is very strong. Other types of wood from elsewhere have a rougher texture that aren't as easy to craft with."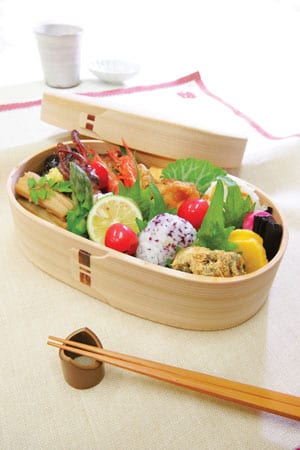 A painstaking craft
Sticking with the craft hasn't been easy as Mr. Shibata shares. Magewappa is a painstaking technique. Bark from 200-year-old Akita cedar trees is first thinly shaved, then boiled in water. The wet wood is carefully bent, tied with bark from cherry blossom trees and hand-shaped into a product. This traditional craft has not changed for over 400 years and is today a vanishing trade.
Yet Mr. Shibata has worked hard to revive the interest in magewappa. When he began displaying his wares at department stores 10 years ago, he noticed that textile craftsmen who produced modern handbags using traditional materials did a roaring trade. So he began thinking about modernising magewappa, by making contemporary items, such as bento boxes, instead of traditional sushi containers and tea ceremony boxes. He also decided to set up a store outside Akita in bustling Tokyo.
He says: "What's most important is that people continue to use magewappa products. We had to create items that people today want to use and make them desirable. For instance, sure, plastic lunchboxes are much cheaper than magewappa ones. But if you use a magewappa lunchbox, the quality of Akita cedar wood helps improve the flavour. It also absorbs extra moisture and prevents spoilage so that the food can be kept longer."
These lunchboxes are now his best-selling items and are so popular that there is a three- to four-month waiting list. Mr. Shibata makes 1,000 handcrafted bento boxes every month, with each taking about two weeks to create. He also makes beer mugs and coffee cups using the magewappa technique.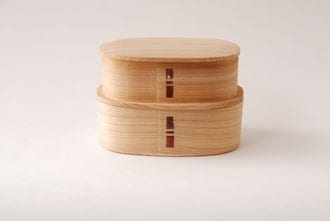 Living the dream
Beaming with pride, Mr. Shibata notes that when he first started, it was only his parents and a few staff in the business. A decade on, he now has 18 employees, mostly in their 20s to 40s, along with a number of women. "More people are interested to learn this craft. I am very pleased that people are willing to come down and learn from us, which helps Akita as the prefecture has an ageing population and fewer workers."
Just this past August, he also opened an expanded space at his store in Tokyo's Asakusa district, including a gallery showcasing magewappa products along with live demonstrations. Mr. Shibata also hopes to use this space to exhibit similar woodcraft techniques from around the world.
Wiping tears from his eyes, he says: "I remember my father at his workshop in our home. As a child, I would go to him in the morning, telling him that breakfast was ready and seeing him in his uniform hard at work at this messy job. But I always saw him smiling and enjoying his work happily, and I have always thought that this must be a dream job.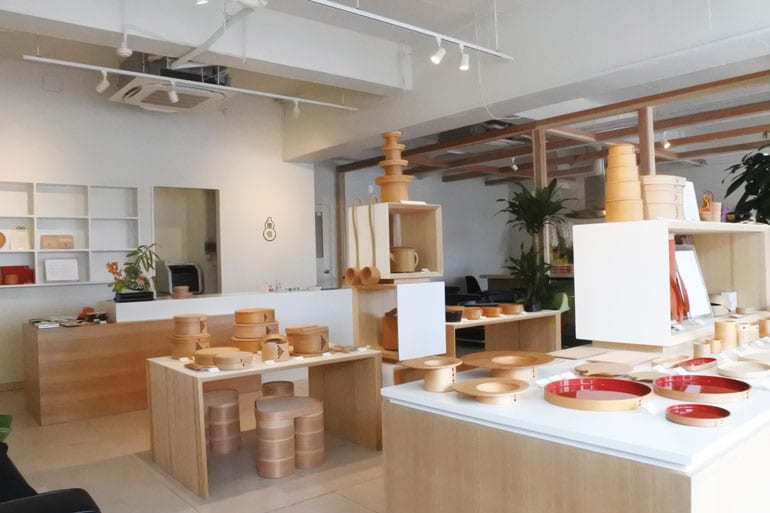 "He has always dreamt of opening a gallery, and I'm very happy because his dream has become my dream and now it's a reality. If we keep working in this way focusing on our magewappa, all will be fine."
(TEXT Denyse Yeo)