Jul 29, 2019
Head Chef Tristin Farmer at Zén takes the spotlight and shares why Japanese ingredients and Nordic cooking techniques are a perfect match.
Börn Frantzén's originalrestaurant, the three-Michelin-starred Frantzèn in Stockholm, serves French-Nordic cuisine with a Japanese touch. At Zén, which Björn opened in Bukit Pasoh in 2018, we exude the same DNA. The focus is on locally sourced ingredients that are at their
prime — in our case, we source mainly from Japan — and cooked with simple, time-honoured Swedish and Japanese techniques.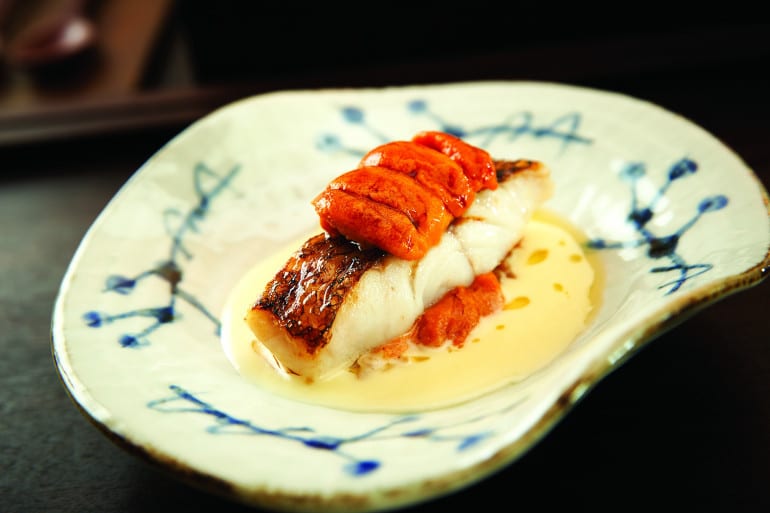 Overall, I'd say 'relaxed luxury' is what the Zén experience is all about. When our guests arrive, they are treated like good friends who are also VIPs. We start with pre-dinner drinks and snacks in the first-floor living room. Then at the kitchen, chefs present and explain the evening's produce and ingredients. We then proceed to the second-level dining room for the main meal, and end with dessert — or what we call 'fika' (a Swedish term for 'coffee break') — in the cosy living room on the third floor.
This dish — Akamutsu, Koshihikari Rice, Uni, White Asparagus (above and right) — was made available recently in our refreshed menu and personifies the ethos of Frantzén and Zén. It's a Japanese dish you'll find in every sushi restaurant but we have given it a Nordic take.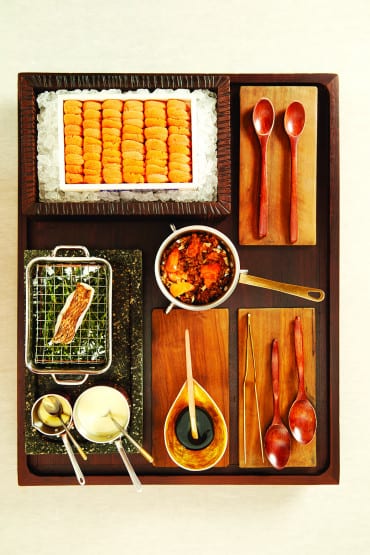 The akamutsu, also known as black throat sea perch, is a slow-growing fish with high fat content and a soft texture. It is grilled over high heat with thyme leaves underneath. As it cooks, the fat renders out and heats up the thyme leaves, which in turn perfume the fish. The fish is also very simply seasoned with lemon juice.
Underneath the fish is koshihikari rice that is cooked in walnut milk. It is then folded with some uni (sea urchin), sprouted walnuts, a sprinkle of sudachi (Japanese citrus) and finished with ponzu.
The dish is finished with a unique take on the classic French butter sauce: We use a sauce made with fermented white asparagus. Lacto-fermented for eight to 10 days at 30 degrees Celsius, the liquid from the fermentation is used as the base for the sauce, which is made up of butter, creme fraiche and lemon juice. Fermentation is a traditional Swedish technique which allows for the preservation for delicacies at the height of their season, for longer enjoyment.
When served table-side, we brush the fish with roasted walnut oil and rendered chicken fat. The taste? Like pure liquid roast chicken! Finally, we top everything off with uni that's glazed with house- made ponzu sauce infused with a 20-year-old black mirin.
The availability of Japanese ingredients such as akamutsu and uni, married with age-old Nordic techniques such as fermentation, allows the enjoyment of this dish until the late summer month of August."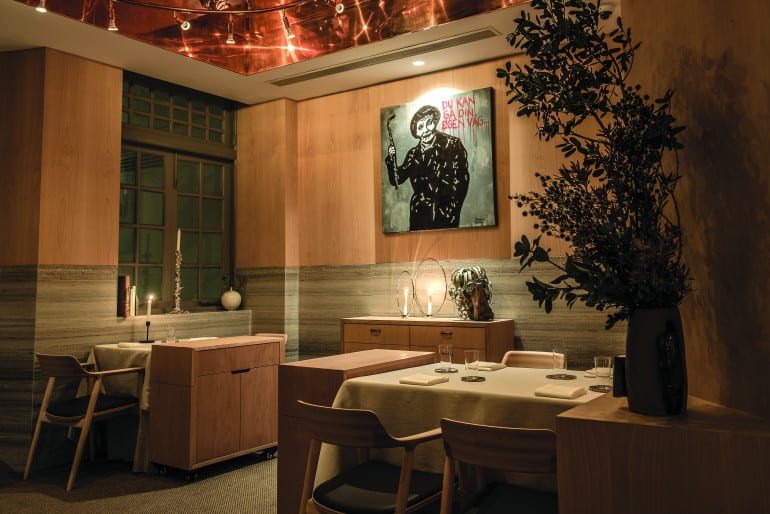 (TEXT ESTHER AU YONG )
(PHOTOGRAPHY RAYMOND TOH/VINEYARD PRODUCTION )
Zén
41 Bukit Pasoh Road
Tel:  6534 8880
(Tables for the coming month open for reservation on the 1st of each month at 10am.)