Halfway between Osaka and Tokyo, Hamamatsu in Shizuoka Prefecture makes a great launchpad for food adventures, fun things to do and much more.
You'll find lots of food adventures to embark on when you're in Hamamatsu.
Spearfish your dinner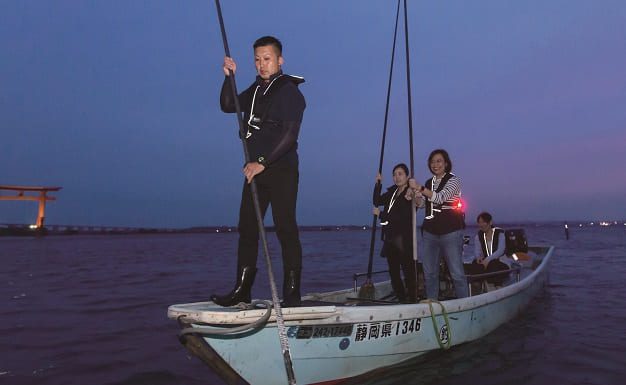 We're spearfishing, a traditional method practised here for over a hundred years. Offered by Takiya Fishery from May to September, the experience is thrilling. After a quick demo from our fisherman guide, each of us throws a 5m-long steel spear like a javelin to catch what we'd like to eat. From prawns to octopus, mud crab to sayori (halfbeak fish), the seafood is abundant in these clear, shallow waters illuminated by the boat's spotlights. Then it's off to an open-air floating platform where the catch is cleaned, battered and fried or steamed. Kick back, feast and wash it all down with chilled chuhai, and this will remain a delicious memory to savour.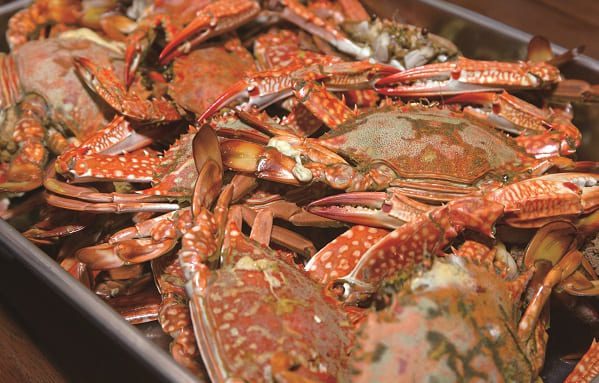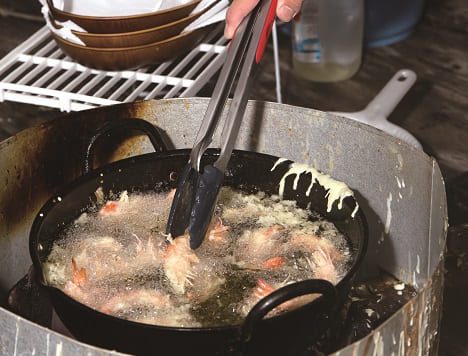 Takiya Fishery
9985-3 Ubumi, Yuto-cho, Nishi-ku, Hamamatsu city,Shizuoka.
Tel: +81-53-592-2260 (Japanese only)
Hand-catch slippery eels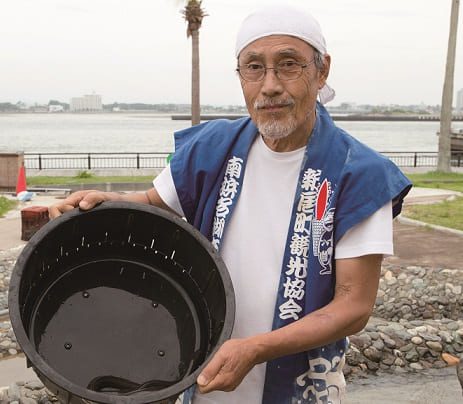 For your next grilled unagi don, maybe try getting hands on. And by that, we mean catching your own eel. It's what you can do at Kaikokan, along the bank of Lake Hamana, that offers an eel catching and eating experience during summertime. Eels are released into a shallow pond and you will need to catch them with your bare hands. Once successful, the fishermen will help you to fillet, debone, skewer and grill them, before glazing sweet sauce — three times — over each piece. The result is crisp yet juicy unagi that's super fresh. More adventurous eaters will enjoy skewered eel offal such as kidney and heart.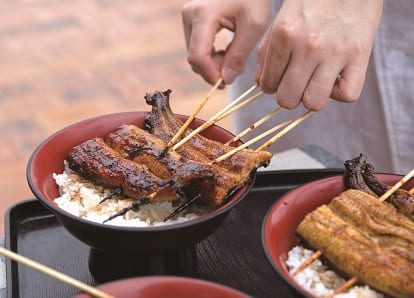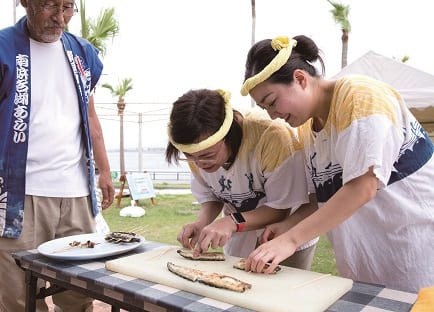 Kaikokan
3268 Yoshimi, Kosai city, Shizuoka.
Tel: +81-53-594-6624
When life gives you melons
Shizuoka muskmelons are some of the world's juiciest, sweetest varieties of melons. At Kashima Harvest, you'll get to taste some and take one whole melon back with you. The farm offers melon picking from July to August. Each Shizuoka muskmelon plant bears one fruit at a time (unlike Hokkaido varieties that bear four at a time) and it takes about 50 days to harvest a melon here. Tip: Pick one with a fresh-looking T-shaped stem. After all that hard work, perk up by savouring half a chilled muskmelon — bliss on a hot summer's day. You can also opt to have prosciutto with the green-fleshed fruit, prepared in advance. The farm also offers strawberry picking from November to May.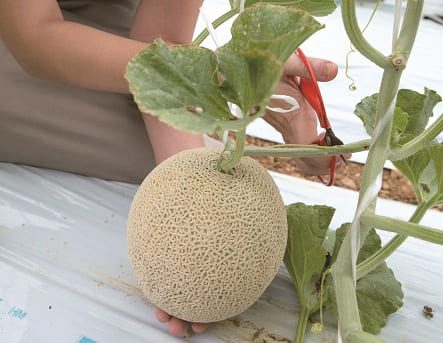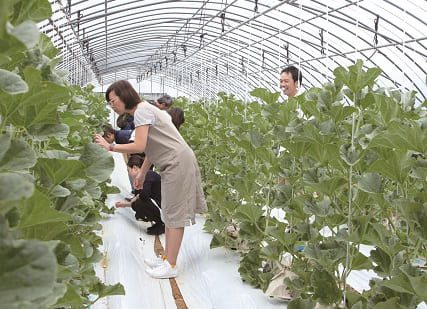 Interview TOSHIHIRO MIYAMOTO -Owner, Kashima Harvest
This third-generation farmer has set out to improve his farm and draw more visitors.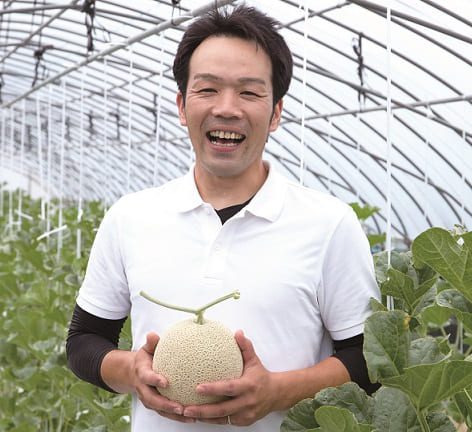 Why did you continue with the family farm?
I've helped at the farm since I was a teenager. I studied farming at the Tokyo University of Agriculture in Kanagawa and when I finished, I
decided not to return for a while to try something else. I went to Hokkaido to work in a melon shop in summer and at a ski resort in winter. When I returned home the following year, I promised my father I would try farming for a year. It's been 16 years now! (laughs)
How have you modernised the farm?
I visited many matsuri (festivals) and met many younger farmers. I saw how they connected with people and the local area, and I liked it. That changed my perception of farmers as being old people only. Besides melon and strawberry picking, I want to make the farm more enjoyable in the future and attract more people. For instance, perhaps I could add more lifestyle features like hammocks that would look great on Instagram. The most important thing is to welcome visitors. I enjoy meeting new people.
Why is Hamamatsu so special?
I was born and raised here, and so are my three kids. I can't express how happy I am to see young children eat what we've planted here. I want to continue farming here and create a tourism concept for more people to enjoy Hamamatsu city.
Kashima Harvest
3624 Kurematsu-cho, Nishi-ku, Hamamatsu city, Shizuoka.
Tel: +81-53-487-0875
Fry your own gyoza
At Hamataro Gyoza Center, you can put your dumpling-making skills to the test. After all, Hamamatsu is Japan's gyoza capital, so there's no better place to try! After sealing the filling of minced pork, onion and cabbage in a dough wrapper, the gyoza are arranged neatly in a circle in the pan, Hamamatsu-style. A final flourish: garnish with boiled bean sprouts. If you're trying this at home, use a lot of oil, sprinkle flour over the dumplings in the pan and fry over a high fire. When the gyoza turn dark brown, pour a little lukewarm water over and cover with a lid for three minutes to steam them before serving. Magic! The restaurant also has an eye-opening gyoza making and frying robotic machine that churns out row after row of gyoza for dine-in customers.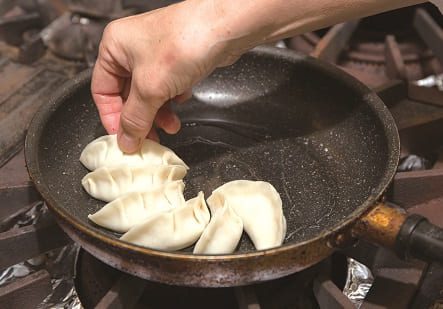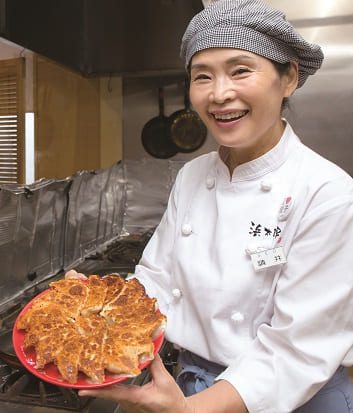 Hamataro Gyoza Center
260-1 Mikatahara-cho, Kita-ku, Hamamatsu city, Shizuoka.
Tel: +81-53-436-2041
Bottle some shoyu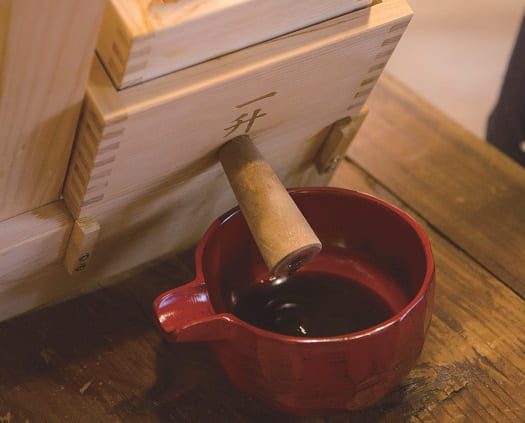 You can bottle your own shoyu (soya sauce) at Meijiya Shoyu. Its family recipe for shoyu dates back seven generations and does not have artificial ingredients. Everything is done by hand here, such as preparing and fermenting moromi, a mixture of soya beans, wheat, salt and koji (malt). Moromi is squeezed through a cloth and wooden press, and the liquid is pasteurised and bottled. With your name
written on it, this 150ml bottle makes a great souvenir when you next have sashimi at home. It will keep for about a month.
Meijiya Shoyu
2276 Komatsu, Hamakita-ku, Hamamatsu city, Shizuoka.
Tel: +81-53-586-2053
Play "cha kabuki"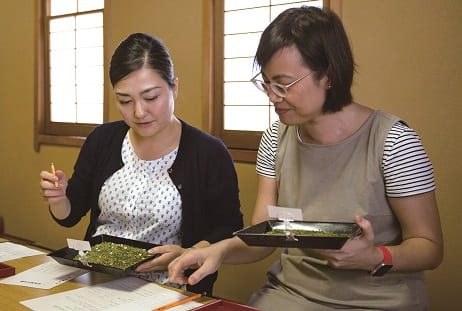 Cha kabuki is a traditional Kyoto game that's played as you blind-taste varieties of tea. One place to play the game outside Kyoto is here in Hamamatsu in the heart of Shizuoka, which is famed for green tea production. Part shop, part plantation and part factory, Muramatsu Shoten is a fun place to learn all about Japanese tea culture. During cha kabuki, you have to guess the kinds of green tea that is poured in front of you. A clue for those who are game: The steaming process to make Hamamatsu green tea makes it bitter, a taste many Japanese enjoy.
Interview MASAHIRO MURAMATSU -Owner, Muramatsu Shoten
The knowledgeable third-generation owner honed his knowledge of green tea by working for four years with a Kyoto tea specialist.
What sets your shop apart from others?
In Kyoto, tea farmers and tea shops are completely separate. But with our little plantation, we have a great way for people to learn more about green tea.
Your shop offers a blind tea-tasting game called "cha kabuki". Tell us more about it.
I learnt this game when I was working in Kyoto. Started for the upper classes during Japan's Kamakura period (1185 to 1333), cha kabuki tests your knowledge of different types of tea. It's a relaxing way to bond too.
How do you attract younger customers?
We offer green tea latte using sencha (Japanese whole leaf green tea) and soya milk with less sugar. Our packaging comes in modern designs. We offer teabags too, which the younger generation prefers to the traditional method of steeping tea leaves. And we would like to expand overseas by selling our products online on websites like Lazada. It might be difficult to do alone, but I'd like to find a business partner.
Where does your future lie?
Hopefully, more tourists will visit us. I'd also like to get my community together more. Many grandparents live in this area and they tend to stay at home. But we can provide a space for them to meet, talk and relax with one another. This role is important, and it's why I want to keep the plantation and shop going.
Muramatsu Shoten
2365 Nishiyama-cho, Nishi-ku, Hamamatsu city, Shizuoka.
Tel: +81-53- 485-8526