The rolling green fields are alive with green tea leaves dancing to the breeze and shimmering under the sun's golden rays. The gushing sounds from the nearby Oi River form the soundtrack, interspersed with atmospheric interludes of steam locomotives chugging along the Oigawa Railway track.
Now's the time for the interlude. You hear the unmistakable sounds of whistling and chuffing from a distance, a telltale sign of a steam locomotive approaching. And approach, it does, as you find yourself staring at … Thomas the Tank Engine?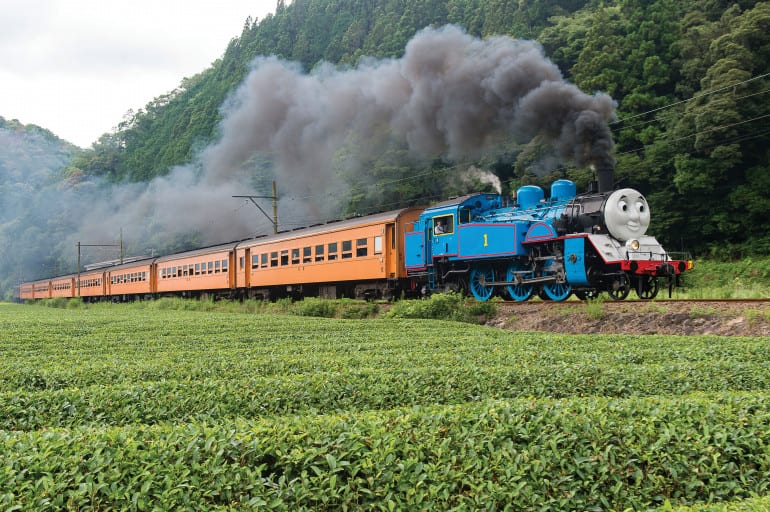 No, you're not seeing things. The life-sized Thomas the Tank Engine appears on selected times of the year on Oigawa Main Line, one of the two railway lines operated by Oigawa Railway, built along the Oi River in Shizuoka Prefecture, Japan. Characterised by fast current speeds, the Oi River flows from the Akaishi Mountains, also known as the Southern Alps. As a result of the stunning natural beauty of the region, the two railway lines serve primarily as sightseeing lines, offering scenic views of towering mountain ranges, deep V-shaped valleys, and sparkling emerald lakes.
The Oigawa Railway covers 65km in total, encompassing Shimada City and Kawanehon-cho, the former located in the Shida Plains of Shizuoka Prefecture, and the latter a quaint town situated along the upper reaches of the Oi River. The Oigawa Main Line connects Kanaya Station in Shimada City with Senzu Station in Kawanehon-cho. Meanwhile, the second line, the Ikawa Line, runs from Senzu Station and terminates at Ikawa Station, which is the highest railway station in Shizuoka Prefecture.
The juxtaposition of Thomas the Tank Engine and the green tea plantation hints at the coexistence of old and new, tradition and innovation. Over the next few pages, you will be able to witness how the Oigawa Railway and the Oi River have helped shape the lives and livelihoods of the locals who call this picturesque countryside their home.
>>Read more about Sumatakyo Food
>>Read more about Oigawa Green Tea