Sweet Beginnings
"Less is more" aptly describes the food at Nara and, nothing embodies the meaning better than the prefecture's kuzu desserts.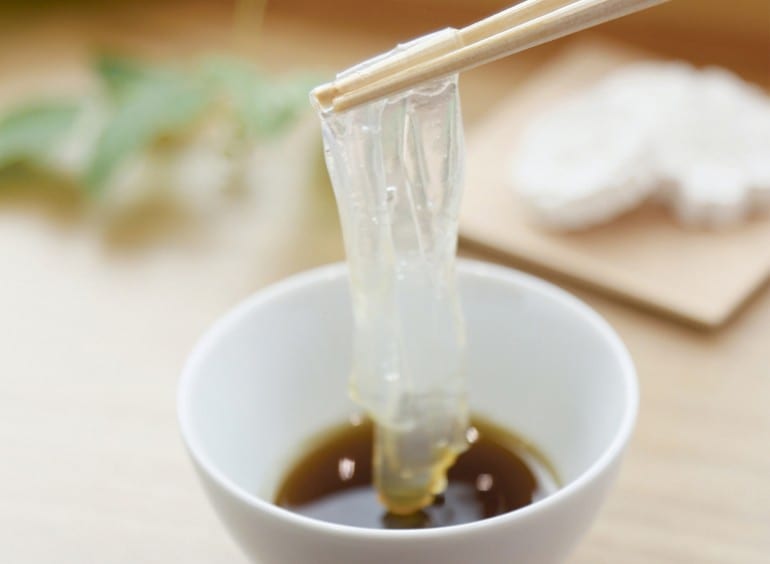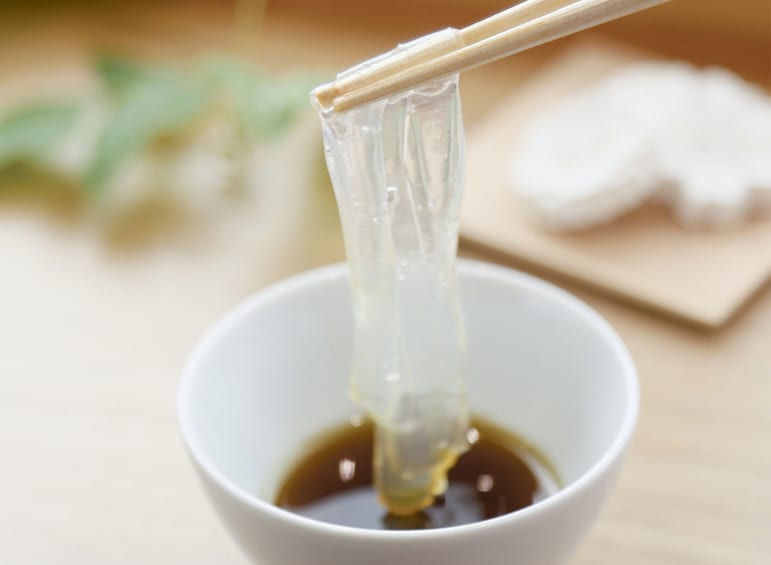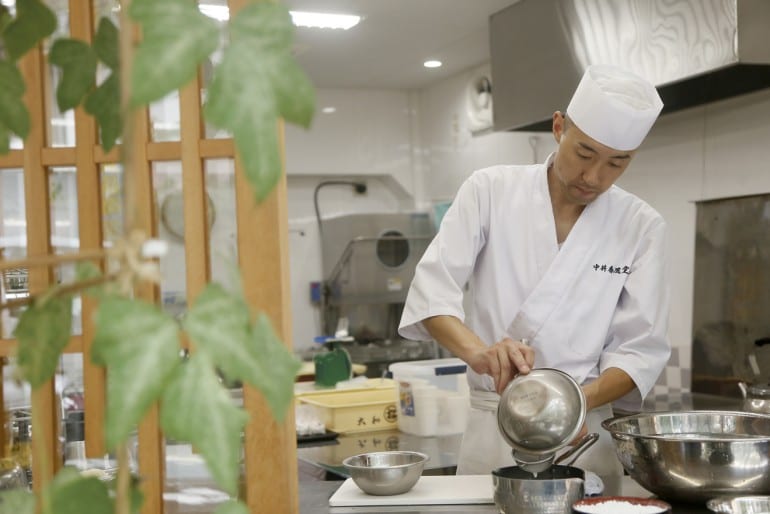 Yoshino in Nara is famous for kuzu, Japanese arrowroot. The kuzu, with its elegant purple blossom, is a symbol of Nara and well-loved by the literati back in the days of ancient Japan. From this plant, a powder is produced and the resulting starch is used in the making of many desserts — a must-eat when you're visiting Nara.
The kuzu root has been used by healers for almost 2,000 years for its ability to quell digestive complaints. In summer, the preferred way to consume kuzu comes in the form of kuzu mochi or kuzu kiri (noodles). When the weather turns chilly, the kuzu powder can be dissolved in warm water as a remedy for coughs and colds.
Nakai Shunpu-do is a family-owned confectionary in Yoshino selling kuzu desserts in a number of forms, from little crystal buns called manju to dry flower-shaped sweets called higashi.
Boss and chef Takashi Yoshimi took over the family business more than a decade ago. He had the vision to focus on using one unique ingredient in all the desserts created by him. "The quality of kuzu in this region is second to none; it makes perfect sense to use it as my principal ingredient."
Visitors should not leave without trying his freshly made kuzu mochi and kuzu kiri. Using just kuzu powder and boiling water, Chef Yoshimi is able to create two desserts with distinctly different textures. The kuzu mochi, as its name suggests, is chewy and best enjoyed with soybean powder. The kuzu kiri is smooth and slippery, and dipped in a brown sugar syrup. The chef is insistent that these desserts are best consumed within 10 minutes, so you can't buy them to go.
So particular is he about eating these sweets right, he even had special chopsticks made. The hexagonal tips hold the kuzu mochi and kuzu kiri with just the right amount of grip so that their tastes and textures are not compromised in any way.
Uncomplicated yet unyielding, kuzu desserts are truly in a class of their own and, your visit to Nara will not be complete without having a taste of them.
(Text Deborah Tan • Photography YUUKI TAKESHITA)
>>Read more about Nara Sightseeing
>>Read more about Nara Experience
>>Read more about Nara Souvenirs