Most tourists rarely see the hidden gems and unusual spots in southern Ehime. Get inspired for your next trip to Japan with this region's best-kept secrets.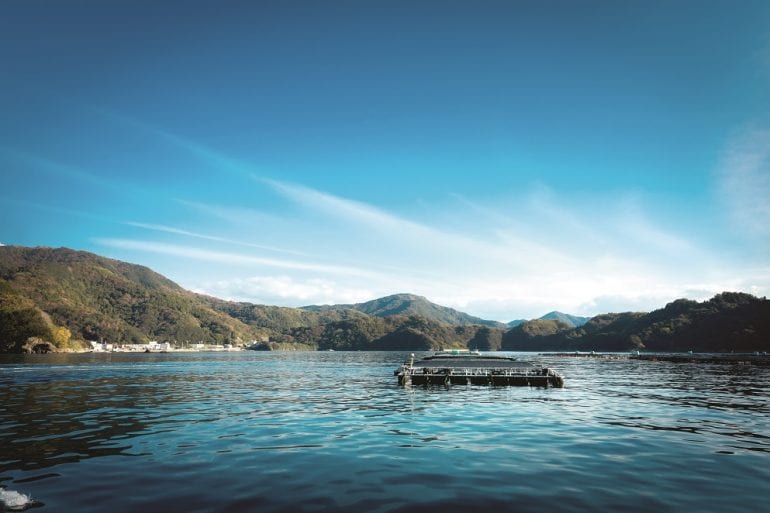 One of Japan's four major islands, Shikoku has long been considered to be Japan's last frontier with its jagged mountains, gushing rivers, emerald forests and temple trails. So when we were invited to visit a wild and remote corner of Shikoku in beautiful Ehime Prefecture, our curiosity was piqued. What would lie in store for us?
Plenty, as it turned out. Known as Nanyo (southern area), this reputedly remote region in the rural south of Ehime is a magnet for green tourism and outdoor sports. Facing the Seto Inland Sea and the Uwa Sea, it enjoys warmer temperatures than the rest of Japan. This mild weather also means a rich natural bounty, with agriculture and fisheries making up a large part of its economy. It's incredibly scenic too, as it holds several of Shikoku's verdant national parks, wild river gorges, craggy highlands and pretty archipelago islands. Today, the region is no longer as isolated as it had been for centuries and is reasonably accessible from cities like Hiroshima, Kyoto and Osaka.
The Nanyo region is made up of several small cities and towns. An hour's drive south of Matsuyama, the capital of Ehime Prefecture, takes you to the port city of Yawatahama, with its bustling fish market and dining outlets. Neighbouring Seiyo city is more spread out but striking with coastal and mountainous areas and a beating urban heart. Then there is Kihoku-cho, with its unique character (quite literally), as well as a heady mix of rural charm and local products, such as pheasant and yuzu. Here, sports enthusiasts and city slickers seeking respite from urban life can find their own sweet spots, especially in Narukawa Gorge, a rugged nature area near a hot spring.
Head south, and you'll come to Uwajima city, famed for pearl producers but also renowned for mountains, gorges, canyons and traditional hamlets. A short drive away is Matsuno-cho, a town on the edge of the impressive Nametoko Valley and surrounding forests, offering farm stays and food activities.
For a taste of Nanyo, think mouth-watering seafood such as Uwajima's taimeshi, with sea bream sashimi on rice and soya sauce mixed with raw egg. The fried fish cake jakoten, made from tiny local whitebait, is a savoury, umami snack. In more rural areas, wild pheasant is common and makes for a delicious winter hotpot. Like the rest of Ehime Prefecture, Nanyo is also a major citrus fruit producer from mikan (Mandarin oranges) to yuzu.
If you are a fan of the great outdoors, you'll be spoilt for choice. Bursting with scenic nature spots, Nanyo offers activities that go hand in hand with its sunny days. One big draw is canyoning in Nametoko Gorge, where you can jump, slide and rappel down the huge slippery rocks. This stunning location in Ashizuri-Uwakai National Park is also where you can go hiking, camping, fishing and swimming in summer.
Turn the page, and let's explore!
>> 5 Exciting Activities in Southern Ehime
>> 5 Best Meals in Southern Ehime
>> Bakeries and Cafés in Southern Ehime
>> Enjoy Agriculture and Marine in Ehime!
>> Where to Stay in Southern Ehime
>> Souvenirs from Southern Ehime
How to Get to Nanyo
Exploring this region of Ehime is much easier if you rent a car as some areas here can be mountainous and quite remote, with no train lines and tricky bus connections. The pay-off, however, is worth it!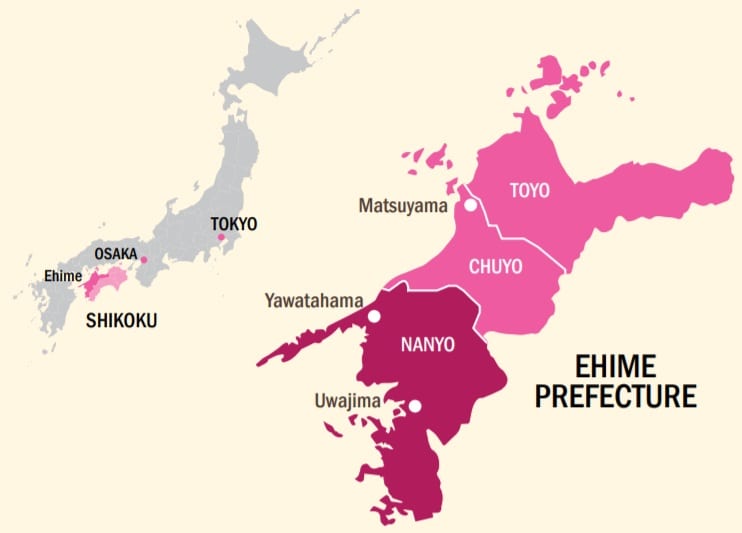 BY AIR
Fly to Matsuyama, the capital city of Ehime Prefecture, from Tokyo (80 minutes) or Osaka (50 minutes).
BY RAIL
Take a shinkansen to Okayama from major cities such as Tokyo, Osaka and Kyoto. From Okayama, hop on a limited express train to Matsuyama,
changing trains to Yawatahama (50 minutes) or Uwajima (90 minutes).
BY CAR
From Matsuyama to Yawatahama (90 minutes) or Uwajima (70 minutes).
BY FERRY
To Yawatahama from Beppu (2 hours 30 minutes) or Usuki (2 hours 15 minutes) in Oita Prefecture.
TEXT: DENYSE YEO
PHOTOS: CHISATO NYUNOYA
Special thanks to: Ehime Prefectural Tourism & Local Products Association.